I guess my alarm clock doesn't work. Don't understand it. I wound it up tight as a drum sometime last year. Stupid bloody thing. Oh, well.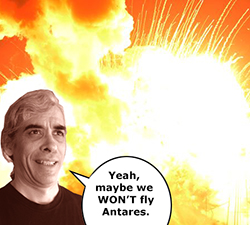 Sometimes it actually pays to be late. I'll give you a for instance. There was this gig on Mars we booked for next month, and we were planning to take a private rent-a-rocket up there, having lost contact with our mad science adviser Mitch Macaphee. That's fine. Only the rocket is an Antares Orbital CRS-3. Yes, THAT Antares Orbital CRS-3. The same one that blowed up real good a couple of days ago. Oh, yes. That's the flight you WANT to be late for.
I know what you're going to say. It's an
orbital
CRS-3, Joe, not an inter
planet
ary CRS-3. What the hell are you doing, taking an orbital ship on an interplanetary journey of this type? Well, my friends .... I'm glad you asked that question. My answer may surprise you. In fact, the reason why we're doing that is that, as I mentioned earlier, we no longer have our mad science adviser, so we don't know what the fuck we're doing. As good a reason as any. Better than most, in fact.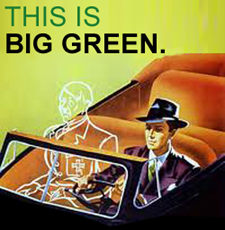 So, probably just as well that we didn't take the CRS-3 to Mars. Looks like it may not have made it there in one piece. That scotches the gig, though - it was the only ride in town, now that NASA isn't lighting candles anymore. For those of you who complain that we never perform live, I offer you this rejoinder: we would have done, except that the Antares rocket blew up. How are we supposed to perform live when that rocket blew up?
All bands have some excuse for what they do and what they don't do. Big Green is no different. I will never say never, but most of what we do now is in the studio, stitching podcasts together, recording ludicrous songs, and asking Marvin (my personal robot assistant) to do his imitation of Joseph Cotton. Our only explanation for such sloth is, well, rocket engine issues.