Pass the all-spice. Now the dried currents. Okay, now shake this up. Shake harder! HARDER! That's good. Okay ... now we need five coconuts, cracked like hen's eggs. Hurry, hurry!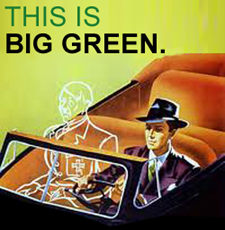 Jebus Christmas. It's so hard to get good ingredients this time of year. How the hell am I supposed to make Madagascarian ratatouille without five coconuts cracked like hen's eggs? What the hell are we supposed to eat between now and St. Swithun's day? Coal dust? Hammer handles? (Actually, they're pretty close to corn on the cob if you close your eyes ... and your mouth.) It's a bit of an issue.
Aside from working on the next episode of
THIS IS BIG GREEN
, our podcast, and the various songs contained therein, we do try to keep busy here inside the abandoned Cheney Hammer Mill as the snow falls in sheets, covering the rolling farmland of upstate New York like a bedspread. It seems to slow everything down to a crawl this time of year. And yes, that is a lame attempt to blame the lateness of our first-of-2015 podcast episode on the weather or some other factor beyond our control. Let's be honest: we're freaking useless. But loveable, I like to think.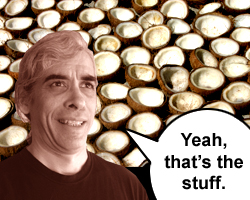 Tonight Matt and I will return to tracking the new songs we've been working on these long, frigid winter weeks. Mostly working on vocals now, though that effort often descends into strange hooting sounds and choruses of background harmonies that incorporate the words "banana boat" in some fashion. I had the temerity to attempt a guitar part the other day ... an ELECTRIC guitar part ... but thought better of it. Mostly confining myself to keys lately. House keys ... and car keys. Now where did I leave that kazoo ... ?
Apologies if I seem scattered this week. So much to do, so little time. Then there's the ratatouille and the recently discovered planet NASA's been talking about. We're considering sending Marvin (my personal robot assistant) up on a scouting missions to see if the new world contains any potential listeners. Could be why he's been making himself scarce these last few days. COWARD!