What the hell. Did I get that wrong, too? Jesus Christ on a bike. Just make a freaking list, okay. And no, I'm not making a special effort to be polite today - that's just the way I talk ...
every
day.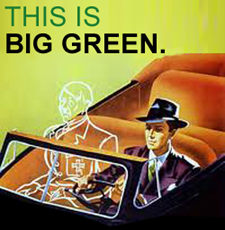 Oh, hello. Didn't know you were reading what I appear to be typing in my sleep. Yes, just spending a day exploring my human failings, which appear to be depressingly similar to those of other humans. No, I didn't think of myself as somehow elevated above the herd. It's just that I can SEE all of them, whereas I can't see MY ass unless I'm looking in a mirror. And there are no unbroken mirrors in the abandoned Cheney Hammer Mill. (That should come as no surprise.)
What was I "effing up", as they say? Well ... a couple of things. Last night I left Trevor James Constable's orgone generating machine running at full tilt. Mitch Macaphee says it came up as a blip on his stellar infrarometer, whatever the hell that is. I apparently created an anomaly in the space-time continuum that nearly achieved the mass displacement value of the planet Neptune. This hole in the fabric of space might have swallowed the Earth whole had it been allowed to continue. (It's the kind of anomaly that might do its grocery shopping in the Whole Earth Catalog, if you know what I mean.)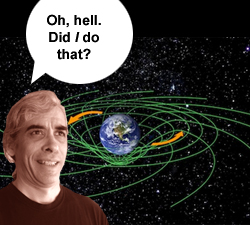 Okay, so THAT disaster was averted. No doubt there will be other threats to mankind caused by carelessness and listlessness, but they won't happen on my watch. Maybe on Mitch's watch. (He's got one hell of a watch.) But then I had to go and make a pancake breakfast for everyone. We were out of baking powder, but I went ahead and made them anyway, just to show all those snobby cooks that I won't be ruled by protocol. I have my pride, you know. My pride and a bunch of inedible flapjacks.
Well, you know what they say - stick to what you know. If you're going to fuck something up, it's best that you put your whole heart and soul into it. It's like playing that sour note in the middle of a solo. Just hammer that sucker again and again - hit it like you mean it. That's the stuff. Now ... have some pancakes. (No, really ... get them out of my sight.)