I'm not a big fan of zero gravity typing. It's kind of hard to keep your fingers on the keys, frankly. Marvin (my personal robot assistant) - can you take dictation? There's a good chap.
Okay, well ... as you may have surmised, we of Big Green are in transit this week. Our brief stint on GJ 1132b, the newly discovered world parked on the very edge of human knowledge was not hugely memorable. Thinly attended, let's say. Sure, we set up our gear and cranked through a few of our better known numbers. The venue was a cave. And I don't mean that it had bad acoustics, though it did; I mean it was literally a cave on a frozen world, populated by ethereal beings whose very existence is a matter of disputed mad science. (Mitch Macaphee tells me that they are real, but then he talks to elves and fairies, so it's hard to be certain.)
Okay, so BIG GREEN'S CAPER BEYOND THE KUIPER (BELT) is kind of a bust. No surprises there. We played that one sorry gig, wearing our pressure suits, then pulled up stakes and headed off into the eternal night of deep space, pointed in the general direction of Earth - at least, something that
looks
like Earth. Lots of time to kill on these interstellar voyages. We actually took that opportunity to work on this year's Christmas podcast - another holiday extravaganza, filled with music, mirth, and mangled impersonations of famous people. (Acting would be a lot easier if we could ... act.)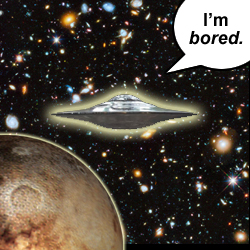 I'm here in what passes for my cabin in this rented spacecraft, editing the audio play we recorded a few days ago. We've also recorded a few songs, as is our tradition, to accompany the hack-job melodrama we'll be posting in the coming weeks, so those will take some finishing. Work, work, work. I thought this trip was going to be something of a getaway, a chance of rest and relaxation, a hiatus in our otherwise hectic existence of hammer-mill squatting. Fat chance.
Well,
there
's a festive note. Don't mind me. I always get a little grumpy at 40% light velocity. Call it motion sickness.