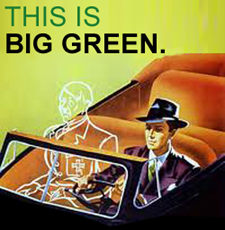 Okay, I'm going down into the basement. Anyone care to join me? No? Right ... off I go, then. If anything dramatic happens while I'm down there, be sure to let me know.
Hello, friend(s) of Big Green. Yes, I'm trying to push the envelope a little bit here. The mail carrier doesn't like to get to close to this place (in that it's an abandoned mill), so whenever I mail something, I have to push the envelope down the walk to the curb. Also, we've just recorded something like half a dozen songs and someone ...
someone
has to mix them. Even though that means cloistering myself away in a dank and musty basement, churning out the mixes and probably missing that monumental event that's scheduled for the coming week: namely, the asteroid fly-by or "near miss".
I put that in scare quotes because, as George Carlin pointed out years ago, what people call a near miss should really be called a near-hit. Semantics aside, I just want to re-emphasize here that THERE'S AN ASTEROID HEADING TOWARDS THE EARTH!!! Am I panicking? Well, I wouldn't call this state of mind "panic" - it's not shrill enough. It's more a kind of agitation ... the kind you get when an asteroid grazes your exosphere and puts a scare into your large natural satellite. Am I scared? No more than the man in the moon.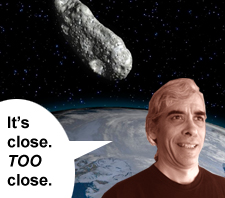 It had occurred to a few of us that we should take the opportunity of this asteroid fly-by to gather some important data on this mysterious visitor from deep space - data that could provide answers to vital questions like, "what color is it?" and "is there a Starbucks there yet?" How would we go about this? Well, we have Marvin (my personal robot assistant). And we have Mitch Macaphee's model volcano. If we put one in to the other at the right moment, there's a moderate chance that item A (Marvin) could reach escape velocity and, maybe, navigate his way to the asteroid. And when I say "moderate", I mean a degree of probability that is, perhaps, calculable if and only if we were willing to make the effort to calculate it. And, well ... we're not. So, Marvin? GET IN THAT VOLCANO!
Okay, so ... before you think less of me, remember that Marvin does not need air to survive, nor gravity, nor food or water. He is an automaton. That said, he doesn't much care for outer space. And in light of the fact that he's nowhere to be found, he's not too fond of volcanoes, either.