Run that one again. Yeah, that's right. Hmmmmm .... I forgot about that part. Okay, rewind it and let's hear it from the top. Yep, yep. Heard
that
before.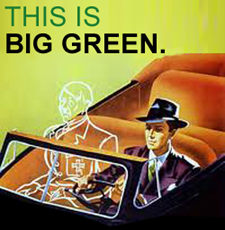 Oh, hi. Joe of Big Green here. Just listening back to some old tracks. Every time we're in-between projects or waiting for something to happen, the amateur archivist begins to take hold within me and I start pulling out the old stuff. Some of it's on reel to reel, some on cassette, some on DAT, some just written on an old sheet of note paper. When you've been doing something for 30+ years, you have a lot of leave-behinds.
While I've been waiting for Matt to finish the latest episode of Ned Trek (now in the works), I thought it might be a good time to back up the masters for
Cowboy Scat: Songs in the Key of Rick
, our 2013 album about cousin Rick Perry, Governor of Texas, 2012 presidential candidate, and once again a member of the Republican electoral field. Our Roland 2480, which we used to record that album, is in somewhat shaky condition and has no internal means for backing up data. That means we have to port the sound files over, track by track, to my install of Cubase LE. I've done most of the songs; still a substantial way to go. Booooring work, frankly, but you gotta do it. Sort of.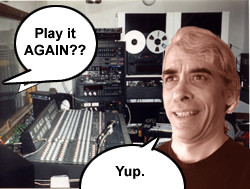 If this keeps up, I'm going to do a deep dive into some unreleased material from yesteryear. I was listening to a live tape of us from back in 1993. That's never been transcoded, so hell, time to get busy. Marvin (my personal robot assistant) can get started on that anytime. Or not. (He thinks transcoding involves switching his gender identity somehow. Not sure where he got THAT idea.)
There is one other thing keeping us pointlessly busy. It's the new site we launched for Ned Trek. The URL is
www.nedtrek.com
and it features five selected episodes from the now 24-show run of this ludicrous mockery of classic Star Trek, occasionally set to music. Go there and binge, folks - it's free, as audio should be.
Off we go again. More archiving. This place is like the Library of Congress.