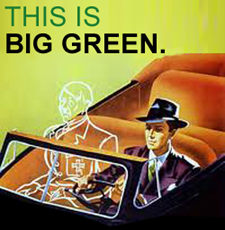 Let's see how we're doing here. Shovel the front walk? Check. Peruse the local shops for root vegetables to give to the children? Check. Decorate the forge room with robots? Check. Yep, I haven't done ANY of those things. (I keep checklists of things
not
done; a "to-don't" list, if you will.)
I don't think I have to tell you that Christmas is a very special time of year around the abandoned Cheney Hammer Mill. No, this I think you know well. Not because we're religious or Jesus freaks or anything like that. No, the specialness is more about quietude. This sleepy little corner of post-industrial upstate New York gets a little sleepier around the holidays, mostly because people take off to visit relatives, friends, etc., in far-flung corners of the globe, leaving the village almost entirely to ourselves. No beeping delivery trucks backing up to loading docks. No drunken neighbors threatening the kid next door. Peace on Earth, man.
Even Mitch Macaphee, our mad science advisor, has taken off for the week. It looked like he was packing for a conference, but he told me he was headed for some sort of family reunion in Aberdeen. That made me scratch my head. "Do you really need to pack the death ray pistol?" I asked cautiously. He just smiled. Sucks to be HIS second cousin this year. (Maybe
any
year.)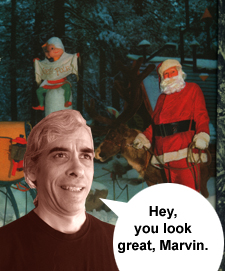 This year, I took the bother to replace some of Marvin (my personal robot assistant)'s lights with Christmas bulbs. So yes, he blinks red, green, and gold now when he talks or performs some computational task. (Oh, yes .... he computes. He's a regular Turing machine, our Marvin ... well ... a
touring
machine, at least.) In previous years, we would trim the mansized tuber, in lieu of a Christmas tree, but he's not having that this year. He's getting a little touchy as he gets older. Age 18 is a difficult time for sweet potatoes, I hear.
Oh, and don't think we've forgotten
you
this year. We're still working on our 2017 Holiday Extravaganza episode of our podcast,
THIS IS BIG GREEN
, which I don't mind saying is not in the least bit extravagant. I've been doing mixes all week and we should be posting soon, so keep an eye on that empty spot under the tree. Just keep a close watch, then check Twitter or Facebook and see if we've posted yet.
Hey, if we don't see you (and we won't), happy Christmas and all the rest of it. Now ... back to the checklist!