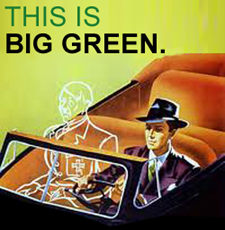 Is this one of those years with a "7" at the end? Right, I thought as much. I guess that's another decade in the can then, right? Fuck all - I am old.
Oh, hi. I was just having a little conversation with Marvin (my personal robot assistant). He keeps a lot of useless information in his memory banks, and among those bits and bobs are statistics about the history of Big Green, the music collective we formed some thirty years ago. Yes, I believe we adopted the moniker back in 1986, in a 2nd floor apartment in Ballston Spa, NY. That was the first incarnation of Big Green, which cracked apart in - yes - 1987, leaving it in the state it remains in today. (And no, I don't mean the state of New York.)
Some may think it's a bit of a problem that our band historian is a robot. That's not that unusual, actually. I hear that the historian for "Captured by Robots" is also a robot. And then there's Kraftwerk. All German bands have robot historians, from what I understand. (Though most bands choose not to read me in on the details.) Marvin can handle this task because he has what mad scientists call an "Electronic Brain". Mitch Macaphee, our mad science advisor, invented it himself. The sparking contacts and dusty transistors inside that whirring little box function not unlike the synapses of the brain. Marvin can
think
, captain. And if he thinks, it's only one small step from there to - dare I say it? - ruling ... the world.
Mwa-ha-ha-ha ....
Okay, well THAT took a dark turn. Why do we have multiple start dates for Big Green history? Well, it's complicated. In point of fact, my personal opinion is that Big Green was born when Matt wrote and recorded the song "Sweet Treason" for a tape he sent me for my birthday in Spring of 1985. I think we've played versions of the song on our podcast. The original is a very scratchy recording that Matt did bouncing between two cassette tape decks and using a mixing bowl for a snare drum. The lyric, personalized for the occasion, goes like this: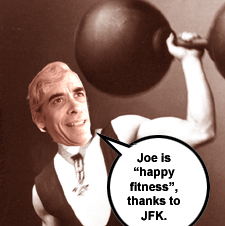 Everyone into the pool
We're all fun at the club
All of us nasty loud
Our metal detectors are safe from ambush
Our stomachs elastic with eclairs
Master's beer
Joe owes much to gym class
Joe is "happy fitness" thanks to JFK
All of us join him, we're grateful, JFK
All of us upside-down
Fungus on our knees
This time, it's gonna be gonna be easy
Sweet treason
Strange inclination has us warm up separate TVs
Every box word echoes neatly
Then it explodes
Joe, the mayor's systematically
going through your mail
He's sifting, but not finding
He's searching for some west-end sandwich
ten years good and stale
And on that day, Big Green was born. (Editor's note: the "mayor" in this song refers to a kid we knew out in the Albany area back when we were trying to make a previous incarnation of this band work. Which brings us back even further, to 1979 ... damn it!