Where did you put the GPS? I don't know this neighborhood very well. Okay, well ... pull out that AAA map and unfold it. Yes, I'll wait. Jesus.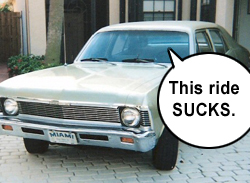 Well, you caught Marvin (my personal robot assistant) and I on a little automotive tour of the greater Little Falls, NY area. All it takes is some kind of vehicle - in this case, Mitch Macaphee's 1968 Chevy Nova - and a little curiosity. Sure, the muffler just fell off (again) and I can see the road going by under my feet, but these are minor inconveniences. Spring is here, people - it's time to start living the life. Let's get our sorry asses out of that drafty old hammer mill and fill our nostrils with the scent of new life. Or ... not. Up to you.
Sometimes the best of intentions, as you know, lead one astray. It reminds me of a song Matt Perry wrote many moons ago - still applies today, though.
Good intentions, I've all these good intentions
My good intentions won't row the boat ashore
Good intentions, you know I'm good intentioned
Still I watched the world, I watched the world crash to the floor
and I just watched.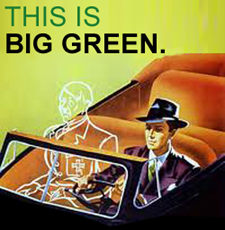 Well, I think there's a lesson in that for all of us. What is it? I don't freaking know. What am I, Kreskin? Anyway ... my one-robot tour of greater Little Falls, NY, is something of a bust. That's just as well. I should be back at the mill, toiling away at the next couple of episodes of our podcast, as well as all the associated songs. We appear to be up to seven new songs for the June podcast - that, I believe, is a new record. (Perhaps literally ... if by "record" you mean "album"). I've got a lot of parts to put down, but somehow I can't move.
Oldest story in the book, right? As soon as you have responsibility thrust upon you, you go looking for the exits. Fortunately, they are easy to find in the abandoned Cheney Hammer Mill. There are a lot of missing doors and windows; it's like living in a king size Swiss cheese. But have faith - we have recorded Ned Trek 23, it has been sent to our non-union editors in Madagascar, and we expect to post the finished project sometime in the nearish future.
All right, I'm off. Marvin's got the map out again.