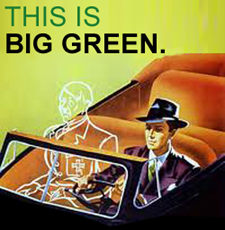 I'm still not sure this is a good idea. The memory of the last time we tried this still haunts me. And that Morlock with the sandals never answers my postcards. And yes, I've been dropping them down the hole. Jesus!
Okay, so someone, I won't say who (Mitch), thought it would be a great idea to do a second subterranean tour, since we now have the equivalent of a superhighway to the chewy nougat center of the Earth. Mitch plans to fashion some kind of urban gondola (very popular in small post-industrial cities these days) that will allow us to treat the mega-hole in our floor like a kind of futuristic cargo elevator. I don't remember where I heard this, but it seems like this mode of transportation might be problematic, to say the least, particularly when you're dealing with magma and other natural hazards.
Mitch isn't worried, of course. In his world, there's a mad scientific fix for everything. That must be a nice feeling. When stuff goes wrong for the rest of us, we have little to fall back on other than playing instruments and/or writing songs, and maybe playing a few rounds of mumbly peg. (That doesn't usually help, but it does give us something to strive for, since none of us knows how to play mumbly peg.) Everyone needs some kind of solution. For Marvin (my personal robot assistant), it's a seven percent solution of machine oil and antifreeze.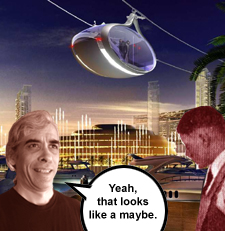 Why does songwriting help? Don't know, exactly. Ask Matt - he's more prolific than me by a mile. As I've said before, he comes up with songs while walking the length and breadth of his rural domain, composing them out loud like a latter-day Ewan MacTeagle. Me, I take forever to crank out a few lines. My muse is like an old, rusty typewriter with an even older ribbon, very parsimonious and begrudging of every line. Even so, if we do undertake this underground tour, we should have plenty of material that hasn't been heard down there before. Nothing the middle-Earth denizens hate more than old, recycled material.
So, yeah, we'll consider it. Though God only knows why.