You really have to stop watching that show, Marvin. It's not good for your electronic brain. And too much television can be bad for your visual detection sensors.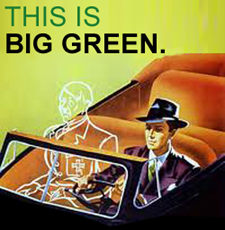 Hoo boy. It's hard to be a father, sometimes. Not that that's technically my role with respect to Marvin (my personal robot assistant). His birth father is actually our mad science adviser, Mitch Macaphee, but given the fact that Mitch is something other than fatherly (the term "grisly" comes to mind), I do sometimes act as a surrogate. Though admittedly, the role does not come naturally to me. Especially when your adopted son is literally made of brass. Anyway ...
Marvin has taken to watching concerts on television. His favorite is Austin City Limits, though he does spend some time rolling through re-runs of Don Kirshner's Rock Concert. A couple of hours of this, then comes the inevitable question: Why aren't WE ever on Austin City Limits? How come WE never get booked for Saturday Night Live? That's just his logic circuits kicking in; you know ... Pearl Jam = band, Big Green = band, therefore Pearl Jam = Big Green. It's not like math, Marvin! Not at all! (Mitch didn't provide a lot of capacity for nuance, sadly.)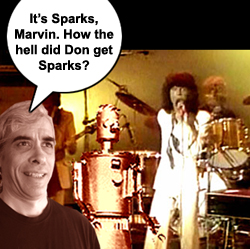 Still, he has a point. It would be a kicker to go on one of these shows, particularly Don Kirshner's Rock Concert, since it would mean being transported back to the 1970s. I think our music would do much better in that decade, even if a lot of the songs pull from cultural references that would not have occurred yet. (On top of that, I could, maybe, save Salvador Allende and Oscar Romero from assassination!) Unlikely? Perhaps, but a man can dream. And dreams can be nightmares. And I had plenty of nightmares in the seventies, so ... it's not so impossible, is it? Huh?
Okay, so ... that's stupid. We'll likely have to settle for something less than what Marvin wants. Maybe web concerts, or if we can pull it together, live gigs somewhere. We'll have to meditate on this ... if I can find a decent prayer rug around this joint.