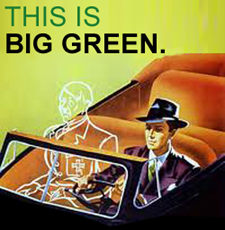 Oh, Jesus .... I think I'm going to sleep over at the neighbor's house for a few nights, guys. At least until the radioactivity dies down a bit after Mitch's head explodes like an atom bomb.
Yes, you guessed it - it's another one of those weeks, folks. Started out just fine. Marvin (my personal robot assistant) was vacuuming the drapes. Anti-Lincoln was out walking his imaginary dog and insulting the mail carrier. Matt and I were cloistered in the studio, digging through mountains of unpublished material. Everything was going just swimmingly ... and then NASA has to go an discover
seven new Earth-like planets
around a sun named Trappist-1. And no, not just
any
seven Earth-like planets, but the same freaking seven planets Mitch has been secreting away for the last decade. And he is going to bum, people.
This planetary search has simply got to stop. Not because it isn't highly productive and stimulating from a scientific point of view - quite the opposite! I speak entirely from the perspective of narrow self-interest. Every time NASA finds new planets, it puts Mitch Macaphee into a funk. Often times they are worlds he has previously discovered - and even visited, in some cases. A true capitalist inventor, he has a decidedly proprietary approach to space exploration. Whatever he finds, he keeps. "Finders/Keepers" kind of cuts against the grain of NASA's philosophy, so there's bound to be conflicts. And it's not such a good thing when both sides of a conflict have rockets at their disposal.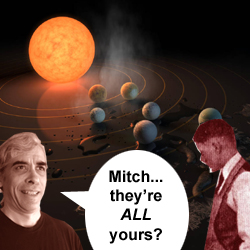 Now before you get alarmed, let me qualify this. Mitch is not ... repeat, NOT ... at the point of launching any rockets. He is principally an electrical engineer, so he's always cooking up gadgets that bend time/space or generate black holes - that along with a lot of buzzing, whirring, and flashing. (Remember that he invented Marvin, who does a fair bit of buzzing, whirring, and flashing of his own.) In fact, I'm not convinced that Mitch hasn't found a non-spacecraft method for traveling to other planets. And I am not talking about soul travel here, brother (though that would be an excellent name for a travel agency). There's the time he hooked up that surplus department store revolving door to Trevor James Constable's orgone generating device. That's how we got Antimatter Lincoln. That was awesome.
So, hey .... seven new planets, seven new problems. That's the story here at the mill.