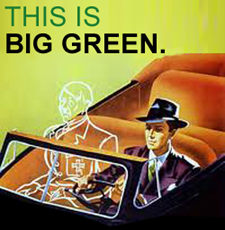 Did you toss it up there? Good. High enough for everyone to reach, I hope. Sometimes you have to warm the arm up a bit, like the old windmill baseball pitch, then let it fly, and hopefully it lands right in the sweet spot. That's pretty much all you can do. Server technology is tricky as hell. Oh, hi. As you may or may not know, we posted our Holiday/New Year episode of our podcast, THIS IS BIG GREEN, this past week, and already it's generating serious buzz. No, seriously ... I try to listen to it, and all I get is a buzz. (I'm told that's my ear buds.) Now, if YOU listen to it, you're likely to hear the following:
NED TREK 35: The Romney Christmas Special / Ned Trek Reunion Special.
Well, we tried to make an extravaganza this year, and obviously failed. Then we tried to get the lousy show up in time for Christmas, and, again, we failed. However, it has been posted in time for New Year's, and this special Ned Trek is certainly worthy of a holiday as nondescript as New Year's. The intention was to put together something that resembles one of those lame reunion specials for The Brady Bunch or The Manson Family (hint: one of those is fake), including some unknown hireling actor playing Jan (or in our case, playing Perle). Also featured is Jimmy Sweetwater, the guy inside the Nixon robot (not the voice actor). The "special" is variously hosted by Gladston Goodstein (aka Peter Lorre), Dr. Carl Sagan, and Lee Majors.
Embedded in the show are six Big Green songs, including:
Romney Christmas Special Theme Song
- A ludicrous little number featuring Nixon, Kissinger, actual Perle, Ned, Willard and other voices. Covers some of the thematic underpinnings of this failed adventure in audio entertainment.
Christmas Business
- Another Willard number capturing the true confiscatory spirit of the holidays. Refreshingly brief.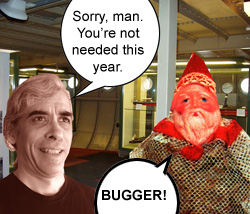 Plastic Head
- This song is a slight redo of a number Matt did for his 1988 Christmas tape, this version sung by Ned. All about a vehicular encounter with a roadside Christmas miracle coupled with metaphysical transposition. Just listen - you'll get it.
Bobby Sweet
- A new song, roughly about America's gun culture. At Christmas.
Christmas To End
- This is another retread of a song Matt wrote for one of his gift tapes, this one from 1994, re-recorded as a Sulu song. Let the war on Christmas begin ... again.
He Does It For Spite
- Re-recording of a song from Matt's legendary 1990 Christmas tape, about a spoiler spirit from the great beyond. True story.
PUT THE PHONE DOWN.
Matt and I talk about ... uh ... I don't know what. We do bad accents, talk about beavers, sing weird songs, and generally make merry by the standards of this dark time. Hope you enjoy listening to it as much as we enjoyed making it. (And hopefully a whole lot more.)