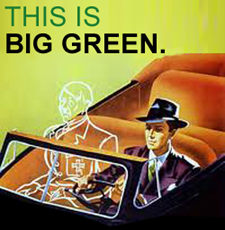 No, you can't have it. I'm not going to say it again. NO. Keep it up and you're going to bed without your sawdust ration. I said NO, damn it! Oh, god .... all right.
Well, there you have it, friends of Big Green. That's how mad scientists get what they want - nag, nag, freaking nag. Mitch Macaphee can keep at it for longer than any four year old. Next thing you know I'll be taking him to Water Safari. Such a child! And I ask you, what's worse than a child with the power to reverse gravity? Nothing I can think of.
What was Mitch asking for? Glad you asked. I blame NPR, frankly. They did one of their glib as fuck little morning stories about something called the Bigelow Expandable Activity Module (or BEAM), a kind of collapsible space station section that can be puffed out like a popcorn kernel when they have some use for it in orbit. Handy little thing, really, and Mitch can see linking two or three of them together and mounting some ion drive propulsion units on one side or the other. It's complicated, of course, but it all comes down to the simple fact that he wants one,
he wants one
, HE WANTS ONE!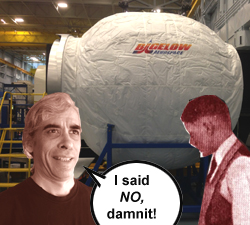 Actually, in point of fact, he wants two or three. And well, they're expensive, for chrissake. Mitch has no sense of cost. I can't even talk him into buying some generic knock off BEAM from China; no, he wants the brand name version. It's essentially a quality argument ... I get it. But what the hell, man - you're an inventor. Why don't you invent some freaking
money
for once?
I guess Mitch is picturing a kind of wagon train to the stars. He's probably given up on our plan to do another subterranean tour, or wagon train to the Earth's core, if you will. Again, typical ADD scientist: first he's all excited about the hole he burned through the mantle, then a few days later he doesn't even want to look at the thing. Of course, he may have a point about the BEAM. Our last few interstellar tours have been, well ... less than stellar, particularly with regard to the accommodations. Finally, someone came up with a space trailer with some leg room. Maybe we DO have to have one.
Okay, okay ... I give up, Mitch. Let's see if it's listed on Amazon yet. (My guess is that it's not available in stores.)