No, the moon is NOT a planet, nor a star. And you may THINK you just saw an ankylosaurus, but they died out 65 million years ago during the late Cretaceous. Don't you know anything?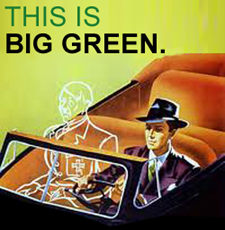 Christ on a bike, what the hell am I, anyway, a grade school teacher? How is it that people (and robots ... and sentient oversized vegetables) can reach adulthood without knowing all this stuff? We may live in a very sheltered environment here in the abandoned Cheney Hammer Mill (and I use the word "sheltered" very, very loosely here), but some light does peek in through the crack in the wall, and a bit of the real world does seep into our isolation. Once in a while. Happened last year, as a matter of fact.
You know what it's like when it's the dead of winter and you spend a stretch of days indoors - nothing but you, your personal robot assistant, and a man-sized tuber. Idle minds run in neutral. Ends up being a long game of 20 questions, for chrissake. But you have to keep the kids entertained, right? Otherwise, they start busting the place up. Marvin (my personal robot assistant) might try his hand at plumbing. That's all anybody needs. (If that happened, I'd have to get the ankylosaurus after him.)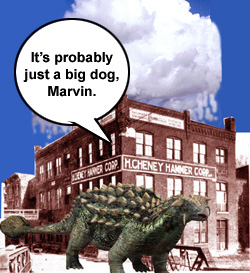 It's not all fun and games, you understand. Matt and I have been hard at work on another crop of songs that will be featured in the next episode of Ned Trek, the Star Trek parody we include in our
THIS IS BIG GREEN podcast
. We're talking maybe five or six new songs, not sure exactly. It's a bit like baking for the holidays. Some things come out right, others go into the compost heap. For Big Green, when a song goes flat in the middle of tracking it, we chop it up and put it into the mansized tuber's flower pot. There's usually enough nitrates in there to perk him up for a few hours. Waste not want not.
So, yes ... Keep your eyes peeled. Not for stray late-Cretaceous throwbacks ... for the next episode of our podcast. Should be coming through any ... week, month ... whatever.