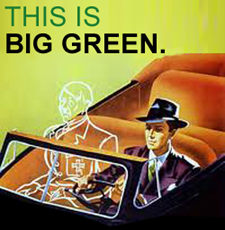 Man, is that the wind? Sounds like a freaking freight train. There goes the good weather. It was a nice couple of days, but hey .... all good things must end. (Hey Marvin ... got any more platitudes I can borrow? Thanks, man.) Well, it's November in upstate New York. Things start slowing down a little bit around these parts. That's partly why we had time to finish another episode of
THIS IS BIG GREEN
and post it this past week. Haven't heard it yet? Well, this is what you have to look forward to:
Ned Trek 34 - Shitty and a Bit of a Stretch.
Another Ned Trek non-musical episode, this one loosely based on the classic Star Trek script "City on the Edge of Forever," originally written by famed sci-fi writer Harlan Ellison. Captain Willard, Mr. Ned, Mr. Perle, and the Nixon android all leap into Earth's history in an attempt to stop a crazed Doc Coburn from changing the past and foreclosing on the future. Will they succeed? Well ... robo Nixon does start a home for wayward clowns. That could make all the difference.
Put The Phone Down.
Matt and I go into a wide-ranging discussion about Nixon's happiest days, Seb Gorka's descent back into internet racist rants, our somewhat spotty memories of the 1970s Eric Idle / Neil Innes parody of Beatle history called
The Rutles,
a look inside how Matt works on stuff, and a review of the television we used to watch with our parents back in the 1960s and 70s. Some impromptu singing and swanning about on various instruments.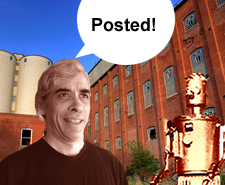 Christmas Songs.
We did a short block of Big Green Christmas songs by way of a little preview of the holidays to come. These include:
Christmas Green, a Willard song from one of our early Ned Trek episodes;
Jit Jaguar's Christmas, a relatively recent recording of a quirky, older number we've played on the podcast before;
Horrible People, a Ned song from a few years ago, featuring the ubiquitous 40s guys on backup vocals;
Christmas Presence, a recent re-recording of one of Matt's several takes on A Christmas Carol (this song appeared on his amazing 1994 Christmas cassette collection);
Make that Christmas Shine, another Willard song from that early Ned Trek Christmas special (the one with Santorum's Christmas planet).
That's about it for November. We have some more new stuff coming for the Holiday show, which will appear sometime around the holidays (hopefully).