Hey, you know what? I saw a car pass in front of the mill today, just a few minutes ago. Amazing, right? Wait a minute ... there goes another one!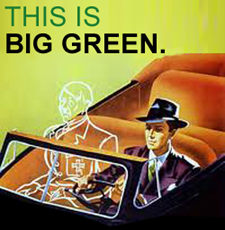 Yeah, I guess you can tell that this town is dying. No doubt about it ... since the old Cheney Hammer Mill shut down, there's no reasonable way of making a living around here. Some stragglers work at the corner CVS, a handful more at the non-name convenience market across the street. It's just plain dead. Damn good thing we don't perform any more, or we'd be starving to death for lack of paying gigs. Sure ... we're starving, but it's for an entirely different reason: inertia!
You know what they say, though. (That's all I've got on that, because, after all, you
know
what they say, so I don't have to tell you.) There are a lot of things you can do while standing still - one of them is mixing. That's what we're doing ... or that's what I'm doing, anyway - rhythm tracks, mixes, blah blah blah. A lot of standing around, pacing back and forth, cupping your hands behind your ears and furrowing your brow. Once in a while, I'll send Marvin (my personal robot assistant) out for some take out. (He wheels over to the local quick lunch stand and looks for unclaimed packages, basically - the discount method!)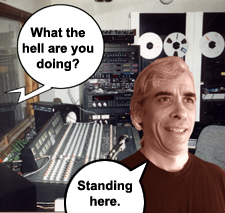 As I mentioned in previous posts, we're finishing eight songs for the next episode of Ned Trek, our Star Trek parody that's the baloney in the cheap-ass sandwich known as the
THIS IS BIG GREEN podcast
. Even when you fly as low to the ground as we do, mixing eight songs is a heavy lift. Imagine sweat dripping from my brow as I twiddle the knob on my superannuated Lexicon effect processor, Marvin occasionally daubing it with a facecloth. More reverb? A rotary effect of some kind? Those vocals need help, damn it! These and a thousand other decisions must be made before we upload our work to literally handfuls of fans. Hard job, but somebody has to do it.
So it's just as well that there aren't a lot of distractions around these parts. Call it a musician's paradise.