What are you going to be for this year's Christmas pageant? A reindeer? A slice of gooseberry pie? As small pile of pine cones? So many possibilities.
I don't imagine that anyone reading this blog is unaware of the fact that the holidays hold a special resonance for Big Green. God knows, when they start blowing those freaking carols through every available loudspeaker, my head starts resonating like a church bell at Noon. That's what I call old time religion. And sure, we did do a whole album of Christmas songs, entitled (not surprisingly)
2000 Years To Christmas
(2KY2C) - our first formal album.
When I say "formal", I don't mean that we appear in tuxedos with massive red cummerbunds and top hats. I mean that we released a number of collections on cassette tape prior to
2KY2C
that were anything BUT formal. More than a few of those were Christmas themed albums, from which we drew the 13 songs that appeared on
2KY2C
. Okay, so ... as we have in previous years, we're planning on putting together a holiday episode of our podcast, THIS IS BIG GREEN, and in an effort to lard it out with some extra music we are ladling out compositions from those earlier "informal" releases. Last year it was "Merry Christmas from Henry K;" the year before we did "Father Christmas," "Christmas Spirit" and a couple of others. Plenty more where that came from.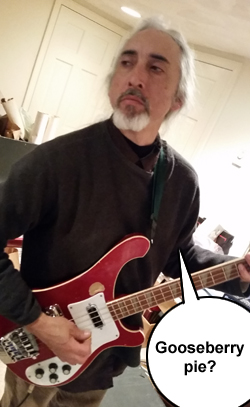 I've often said (and you've often heard me) that the difference between Big Green and a successful group is that all-consuming lust for fortune, fame, and higher achievements. Yeah ... we ain't got that. We've got the songs - scores and scores of them. We've got our modest musical abilities. We've got a sense of how to put an album together. We even half know how to record ourselves, with some struggle. But that other stuff - that "I'm the greatest" shit ... that particular human chromosome was left out of our genetic inheritance.
So what the hell. Bereft of an Earthly audience, we please ourselves. If that involves putting antlers on for a few hours, so be it.