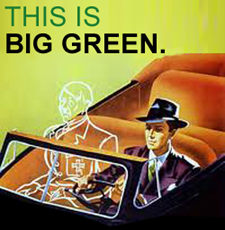 Man, it's windy again today. That's what I'm hearing, right? Oh, okay ... Anti-Lincoln is just practicing his bass clarinet. Right. Sounds like wind. Lots of wind.
Hey, look .... I know living with other people can be annoying. But we try to be tolerant around the abandoned Cheney Hammer Mill and let one another live up to his or her true self. And when they achieve that hard-won moment of self-realization, we all point fingers at them and laugh derisively. Particularly when they take up some wind instrument they have no hope of mastering. (Happens more often around here than you might suppose.) That's what we call "positive reinforcement."
I don't want to give the impression that we of Big Green have something against innovation and initiative. Lord, no. The fact is, we rely on other people's innovation and initiative to make up for our woeful lack of those qualities. We've made plenty of recordings that have random horn-like instruments honking in the background or someone plunking on a banjo in a lackluster way. Naturally, we don't hire session musicians for this. (Very few of them are willing to work in There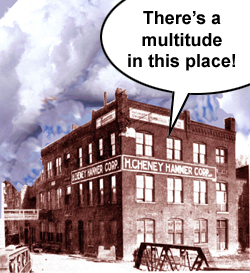 exchange for discarded hammer handles from the last century.) So naturally we are left to forage for talent a little closer to home. And when I say "talent", I'm using the word in a very generic, denatured sense. Bodies with working digits is what I mean.
Take
Cowboy Scat: Songs in the Key of Rick
. (Please.) Little known factoid: Many of the horn parts on that album were played by Marvin (my personal robot assistant) and Anti-Lincoln. We used trained monkeys for some tambourine parts. And when I say "trained", I'm using the word in a very generic .... oh, never mind. Actually, I played the freaking tambourine. I just made it
sound
like I'm a trained monkey. Though frankly, most people playing the tambourine sound like trained monkeys. Not that there's anything wrong with that. The point being .... we may
look
like a band of three people, but there's a virtual multitude involved in everything we do. (Now by "virtual", I mean literally "in essence or effect, but not in fact".)
Got all that? Good. Maybe you can explain it to me (and the virtual multitude).