He's screaming about "the probe" again. It's like he's the Six Million Dollar man or something. Does anyone have smelling salts? Maybe we should just hit him with one of the leftover hammers. Any other good ideas?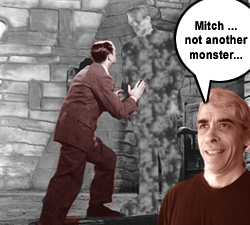 Well, as you can see, we have had a house invasion. The perpetrator? None other than our mad science adviser, Mitch Macaphee. When NASA's Dawn spacecraft started orbiting his adopted home world of Ceres, he became extremely agitated. Smoke began to pour out of his ears and mouth, like VOL, from Star Trek. He simply could not live with the idea of being spied upon by the space agency. What if they stole his ideas? he thought.... then his plan to (dare I say it?) RULE THE WORLD would be scuttled. Shot down by a measly little, tin-pot space robot. THAT MAKES ME SO MAD .... !
Ahem. Sorry - I was channeling Mitch for a moment. Anyway, he denounced the NASA probe as a space invader and started bombarding it with deadly baritold rays. Deadly, that is, for vegetation on Gamma Hydra 4, but completely ineffective against ion-powered orbiter spacecrafts. Frustrated, he packed up his portable lab and lifted off. That's the good news. The BAD news is that he landed here, at the abandoned Cheney Hammer Mill, mad as a badger and ready to take his quarters back from Anti-Lincoln, who had scattered all of his junk over the floor of Mitch's lab. (Anti-Lincoln's gotten into origami in a big way, so the whole room is full of paper shards and scissors.)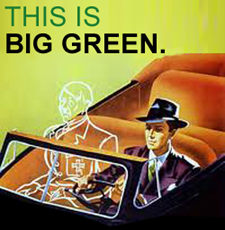 Now Mitch talks (or shouts) in his sleep, and by day he's formulating theorems to destroy his imaginary enemies. I think he's been on that asteroid way too long, as a matter of personal opinion. But please - keep that to yourself! I may be subjected to a withering barrage of baritold rays!
Projects.
Matt and I are working on some new songs for Ned Trek. I will also be posting some songs from Cowboy Scat on our YouTube channel very soon, for those of you who like listening to music on YouTube. I'll post, tweet, whatever when they're up.