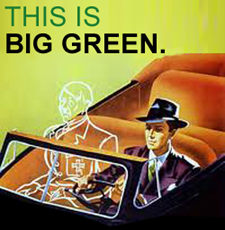 I can play any instrument. Piano, bass, six string guitar,
five
string guitar - I broke a g-string yesterday (note that I didn't say I could play them
well
) - kazoo, contra-bass kazoo ... I think that's about it. That's all the instruments there are, right?
Actually, I'm not super good at any of those instruments. If I were, then I would be insufferable or famous or something; perhaps both. Or neither. Well, that covers all of the possibilities. I don't like leaving things to chance. (And I don't mean Chance the gardener.) Thing is, I
like
playing instruments, even if I do it, well ... badly. So even though I've never been what I would describe as a punk musician, I do share that piece of the punk ethos - technical skill on your axe is not paramount. So if you see me strumming an acoustic guitar, don't look for a pick; I basically use thumb and forefinger. Piano? Just thumbs. Gotta move fast to make that work.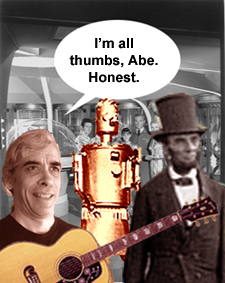 Many instrumentalists leave distinctive marks on their instruments - scratches in the soundboard or pickguard of a guitar, or in the keyboard cover of a piano, that sort of thing. My aging Martin D-1 doesn't have a lot of marks, mostly because I don't play it all that much, but also because I suck at using a plectrum. The guitar top and the strings are harder than my fingers; therefore, the instrument leaves marks on me and not the other way around. Matt, on the other hand, is a more traditionally trained guitar player, so his axes are all marked up. It's been a few years, but when I last saw it his Les Paul Custom looked like a truck backed over it. (That's what my
hands
look like.)
Why am I telling you this? Well, because no one else will listen. And it's snowing outside. This time of year in upstate New York, we all get sealed inside our homes by a mountain of snow and ice, thanks to the relentless force of moisture rising off of the Great Lakes. (What the hell is so great about them? All I see of Lake Erie is seven feet of snow on my front porch.) So for that six months of snowbound sequester, we must amuse ourselves with random tales and tips and particles of useless advice. It's the only way we can get to sleep in this drafty old hammer mill. Hey, did you ever hear about the time I played a New Year's gig in Lake George, NY and .......
Zzzzzzzzz....