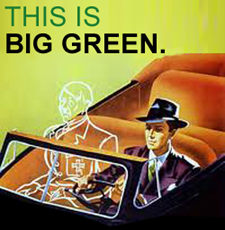 Okay, time to clear the table. That's right - push yourself back a few inches, climb to your feet, and start gathering up the plates. Chop chop! Hey ... don't throw that ladle at me! OUCH!
Well, I hope YOUR Thanksgiving was better than this. Here at the abandoned Cheney Hammer Mill, it's catch as catch can, as you might expect. We have no particular tradition with respect to this holiday; no frantic cooking, no decorations, no ritual television viewing or binge shopping. Just another pot of gruel, boiled to a fare-the-well, and ladled out to the dwindling contingent that is the Big Green collective. Solidarity forever!
Actually, it sounds worse than it is. Everybody wants an extra day off, right? Now, you might be justified in asking, "Day off from what?" My only rejoinder would be that it takes a lot of creative energy to write, record, and distribute songs in this day and age. In anticipation of the question, I have asked Marvin (my personal robot assistant) to use his electronic brain to calculate the number of calories required for the various stages of what we typically do on a weekly basis. He whirred and buzzed and blinked for a few moments, until a thin slip of tickertape emerged from his mouth-like grill bearing the following inscription:
START REPORT: COMPOSITION: 347 CALS; PRE-PROD: 140 CALS; RECORDING: 583 CALS; POSTING: 75 CALS .... ALL AMOUNTS AVG PER CAPITA ... END REPORT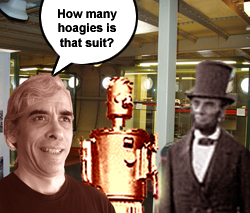 Telling figures indeed. (Note: I may have transposed a couple of digits here and there, but no matter.) So, from start to finish, a Big Green song consumes 1,045 calories per person. That's less than a standard hoagie from the corner deli. (Granted, they are bigger than the average hoagie.) If you were to try to put a precise cost on our songwriting enterprise, you could express it in terms of hoagie units, or you could convert the hoagies to dollars and cents. That would make it a more costly enterprise on a Monday than on Thursday, since Thursday is $2.99 hoagie day.
I know - we shouldn't be tossing higher math problems at you on the day after Thanksgiving. This is just our way of expressing the value of our efforts on your behalf. So, you're welcome, friends of Big Green. Keep those hoagies coming.