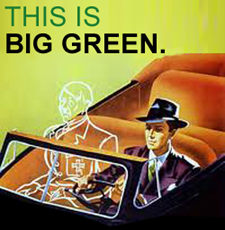 This tape recorder has that Leroy Brown kind of problem. You know ... it looks like a jigsaw puzzle with a couple of pieces gone. Guess it must have been messin' with the wife of a jealous dehumidifier.
All right, well, it's no secret that Big Green has a technology problem or two, even with an in-house mad science advisor like Mitch Macaphee. Our machines are aging, our circuits are frayed, our relays are frosted, and the electric bill's unpaid. (That was an accidental rhyme, by the way.) Most of our recording devices have at least one tooth missing. I've got an
Evil Twin direct box
that needs surgery. Our
VS2480 deck
has finally been retired for a system that's maybe six years newer (i.e. only nine years old).
Hey ... if you're a real band, that shouldn't matter, right? Got a second-hand guitar and a panama hat? Start busking. Got a broken-down upright piano that's barely upright? Grab a tin cup and start pounding those dusty keys. That's the musician's work ethic. Not super popular around here, I must say. We make music without much of a thought to monetizing it. God no - that's Anti-Lincoln's job. We just put our heads down in the studio. Old antimatter Abe sits in the den and moves the numbers around. Occasionally they add up to something edible.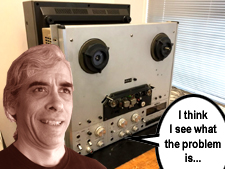 Speaking of missing pieces, our podcast,
THIS IS BIG GREEN
, is massively overdue. The reason/excuse? Well ... we produced eight songs, mixed seven, and thought we were freaking done. Matt was plugging the show together and, well ... there was this gaping hole where a Nixon song should go. So it's back to the mixing board with us, and the June episode is now turning into the September episode. But people ... think of it. Eight new songs, written on the fly and recorded from scratch ... on a new (to us) recording system, no less! Add to that some chasing around after falcons and the usual summer distractions, and you've got an abysmally late podcast. But, hopefully, it will be one for the books. (Eight new songs, people.)
I think that brings our
Ned Trek
catalog up to about 70 tracks. Christ on a bike. There's got to be an album in there somewhere, right?