Jesus, that's god-awful. Turn that shit down, man! What the hell are you listening to, anyway? Some kind of reality show reruns? Oh .... it's our podcast. Nevermind.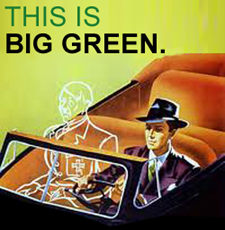 Okay, so we have this podcast, see? And it kind of sucks, see? But we're proud of it anyway, so that naturally leads me to want to tell you all about the latest episode, hot off the presses here at the abandoned Cheney Hammer Mill. Let's take a look under the hood, shall we?
Item the First: Ned Trek XXIII - Doo-Dah Dancing
- This episode of our post-modern satirical space opera (a bizarre-ass mashup of classic Star Trek, Mr. Ed, and the 2012 Presidential election) is loosely based on the 3rd season classic ST episode entitled "Turnabout Intruder", in which Captain Kirk's body is taken over by an ex-girlfriend/scientist - typical season 3 ridiculousness, and perhaps the most asinine episode ever. In this distorted version of that degraded reality, Captain Willard Mittilius Romney is forced to exchange consciousness with a one-time dance partner with ambitions to, dare she say it, take over the Free Enterprise and rule ... the universe! Special appearances by Peter Lorre and former Secretary of State Henry Kissinger, among others.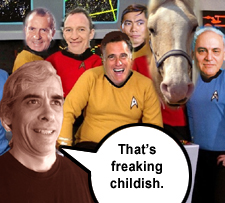 Song: Aw Shoot, by Big Green
- This song is from our 2013 album, Cowboy Scat: Songs in the Key of Rick. It's a funky little number, somewhat reminiscent of the theme music from a bad 80's foreign sci-fi film whose name I won't mention. Scandinavian accents are kind of a giveaway.
Put the Phone Down
- Matt and I discuss a range of issues touching on matters of vital importance to the future of humankind ... NOT. Mostly some bad singing, talk of racist friends of the family, insults heaped upon the memory of Al Jolson, and so on.
Song: Poor Dick, by Big Green
- Another selection from Cowboy Scat: Songs in the Key of Rick. This one tells a tale of Rick Perry taking desperate measures to save his pal Dick Cheney by procuring a replacement heart for the ailing Vice President, taking care not to pick one that pumped life-giving blood through the veins of a socialist. Rick finds the perfect donor: Breitbart! Hilarity ensues. Only song I know that uses "aveoli" in a rhyme scheme.