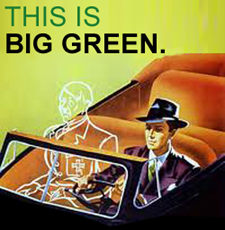 There's my pocket watch. And no, it's not a
proper
pocket watch, just a wrist watch I keep in my pocket because my wrists get sore when I wear it. As a result, the crystal is scratched to the point where it always looks like 3:54 last Wednesday. So .... happy Wednesday, everybody!
What's new this week in Big Green land? Well, I'm guessing there's more news coming out of regular old Greenland (That's part of Scandinavia!), though they have the advantage of belonging to Denmark. It's been suggested to us more than once that we should just ask Denmark to annex us, like the even
bigger
Greenland, so that we would have more to talk about on our blog and podcast. Another good suggestion, people. Keep them rolling in!
In all seriousness, though (and I'm making my most serious face now), we have been working our fingers to the bone on our next raft of Big Green songs. We've even worked a few of our toes to the bone as well. (You don't know hardship until you've worn sneakers over bony toes.) All of this is leading up to the next episode of Ned Trek, which promises to be another musical - this time a takeoff on the
Galileo 7
episode of the original series. At least I
think
that's what the next episode will be. Because you know ... shit happens. And it happens fast sometimes. Fast, fast shit.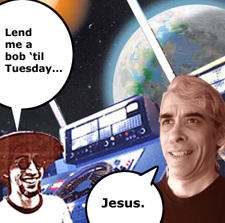 As always, Matt has been doing the bulk of the songwriting. He's a writing machine, people ... just pacing through his duties on that nature sanctuary, talking out the lyrics of his various crazy-ass songs like a distinctly non-Scottish Ewan McTeagle. (Though, in the interests of full disclosure, this is probably a good time to point out that Matt's partner
does
indeed play the bagpipes.) Matt wrote at a relatively breakneck pace before he spent his days out on the range, as it were, whereas I have always been the kind of songwriter that squeezes one out every once in a while. (If that sounds nauseating, it's because it kind of is.)
Hey, Matt has his process, I have mine. Drop it into a 3-quart mixing bowl, set the beater on
frappé
, and
voilà
(or for you British listeners out there,
what ho
): Big Green casserole. Help yourself.