I don't know, Mitch. It could work, or maybe not. Let's give it a shot, then. Just promise me one thing - no launch tests in the courtyard, okay? Last time you tried a stunt like that the neighbors called in the local SWAT team. It took all of our collective savings to get Marvin (my personal robot assistant) out of jail.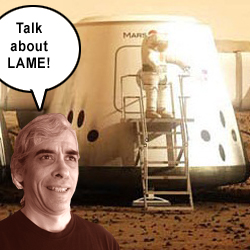 Oh, hi. Just settling a few details with our mad science adviser, Mitch Macaphee, recently repatriated from the dwarf planet Ceres. Mitch is helping us plan the launch of Big Green's newest venture. Let me give you the background. You've all heard of Bas Lansdorp's Mars One project, no doubt. Lansdorp is inviting volunteers to go on a one-way mission to colonize Mars. He says he can get the whole thing going in time for a 2025 launch date.
Well, here at Big Green's abandoned Cheney Hammer Mill, we way that's pure bullshit. Lansdorp is obviously engaging in gross exaggeration - an exercise in self-aggrandizement, no doubt. 2025 indeed! The notion is ludicrous on its face. Why, with Mitch's help, we could get to Mars tomorrow (or, at least, next week sometime). And it wouldn't be a suicide mission like Lansdorp's; our missions are decidedly two-way. That's just how we roll.
So we've decided to launch a new project we're calling
Mars Zero
. No, it's not a new low-calorie candy bar or soft drink.
Mars Zero
is our effort to claim Mars for colonization a full five years before Lansdorp's goons get there. The red planet is ours! We saw it first! (I'm speaking for Mitch, here. He gets a little overheated about this stuff.)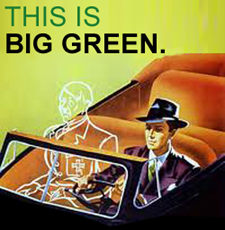 Want to be a part of the
Mars Zero
crew, set to leave the surly bonds of Earth in April of 2020? Just
contact us
via our comment form or our
Facebook page
or our
Twitter account
- whatever. We'll test your endurance through feats of strength and ... um ... endurance. (Send us valuable government coupons, known as money, and we'll waive the feats of strength.)
Cowboy Scat on YouTube.
Speaking of endurance tests, we've uploaded the first installment of our album
Cowboy Scat: Songs in the Key of Rick
to our
YouTube channel
. Give it a listen and let us know what you chuck ... I mean,
think
.