Wait ... where the hell are my lyric sheets? I had a big stack under my piano bench since we occupied the mill. Marvin - did we go digital at some point without my noticing it?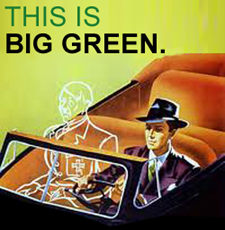 Yeah, so I'm just going over some old material, as I mentioned last week. Old videos, old audio tapes, old records, old robots. (Yes, robots - we have a roomful of toy robots in boxes, all acquired during our "
Captured by Robots
" obsession during the 1990s and 2000s. Evidence of misspent youth, except that we weren't young then. Misspent oldth.) Just reminding myself of all the songwriting Matt (especially Matt!) and I did back during decades past - a full canon of material. Wait ... that's where I put those lyric sheets! In that old cannon Mitch bought at a mad science garage sale!
Marvin (my personal robot assistant) is lending me a hand (or a claw) as I sift through a mountain of discarded bullshit. Amazing how a band full of anti-materialistic, anarcho-syndicalist hammer mill squatters can accumulate such a bewildering array of random possessions. Sure, there are pockets of useful items, like the robots (we can, for instance, plan some kind of robot invasion of the convenience store across the street), but mostly nameless junk. We found some things that were acquired on our various interstellar tours, but much of that is either invisible or too radioactive to handle. (You'd think invisible junk would take up less room, but noooooo.)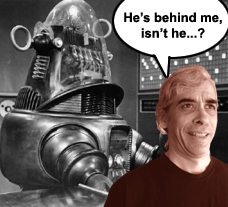 Anyway, I've been taking this opportunity to relearn the keyboard and vocal parts to some of our older songs. There are literally hundreds of them, so I suppose if I wanted to, I could play a different one every day for the next nine months, then start again. (I only have time to play one song a day, and usually it ends up being "Summertime" or something like that.) Yesterday's song was Matt's "Promised Land", which is one of those Dylanesque songs Dylan never wrote. We'll record these at some point, though we have scratchy demos of all of them, recorded on cassette portastudios back in the stone age. (We've played some of these on our podcast,
THIS IS BIG GREEN
.)
So if you're looking for me, I'm down here in the catacombs, pounding on the keys and warbling. Just knock loudly and beware of the robots.