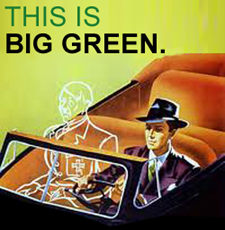 Ask not what Big Green has been doing for you this week. Ask what you can do for Big Green. And yes, I am cribbing from John F. Kennedy - that's how we roll around here. It's all JFK, all the time.
Interestingly, president Kennedy did have a role in Big Green's history, albeit a minor one. Back in the day when we were fighting the cat for the scraps that she had just wrestled away from some mice, we would record in our childhood bedrooms, our mother's living room, some spare room - wherever we could fit a cassette machine and some battered instruments. (Those instruments!) Matt and I would bang around the way we still do now, hammer together a song, then release it on cassette. And when I say "release", I mean something like tossing it out into the middle of the road and hoping someone chances upon it. (You know - essentially like posting it on the Internet ... without the Internet part.)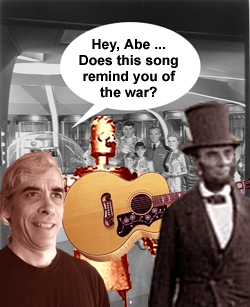 Well, many of those cassette collections were made up of Christmas songs - not carols, but songs Matt wrote on the theme of Christmas. (He typically recorded these collections himself to retain the element of surprise.) The one Matt put together in 1989 was entitled "PT 109" and the sleeve featured a slightly modified version of the heroic cartoon-like cover of Kennedy's war memoir by the same name. The song PT 109 was actually a country number ripping on George H.W. Bush, who had just become president and who had a heroic WWII story about how he had rescued a future president of the United States - himself - from a plane crash in the Pacific. The lyric was written in the posthumous voice of one of Bush's crewmates, lamenting that he hadn't served under another commander:
Had I served on PT 109
I would have had the good fortune to be
on patrol with lieutenant JFK
and I might just have survived to this day
'Cause sometimes not only the hero survives to tell the tale
Anyway, that's Kennedy's contribution to Big Green. Not unique, of course - our songs feature many presidents, including the current one. Occasionally they show up in the titles as well. Fun fact: one of our cassette collections was entitled "Songs that remind Lincoln of the war". Extra points if you can guess which president was on the cover of that sucker.