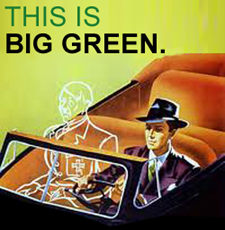 You can't really expand it, Mitch. If you did, it would be too damn big for the tube. Then there's the drag coefficient ... you know, that thing you were telling me about yesterday, what the fuck .... WHY CAN'T WE JUST WORK ON MUSIC?
Sheesh. Back again, here at the Cheney Hammer Mill, with our mad science advisor Mitch Macaphee working on yet another crackpot scheme to make us all RICH while carrying us place to place more efficiently and, I don't know, churning out mounds and mounds of cole slaw. Last week it was the Bigelow Expandable Activity Module - that patented modular space station component that Mitch was obsessing over. Now he's focused like a particle beam on Hyperloop technology, the brain child of entrepreneur/inventor Elon Musk, a man Mitch loathes, envies, and idolizes all at the same time. (He's got mood issues, frankly.)
What is Hyperloop? Well ... the best I can describe it is as follows. If you're of a certain age (and I most certainly am) you may remember a time when the local multi-story department store (in Utica, it was the Boston store) had an advanced method for getting money and paperwork from one part of the store to another. They had these funky vacuum tubes running everywhere; the clerk would take your five dollar bill, put it into a little capsule, stick it into the tube and it would go 'round and 'round until it reached accounting or wherever, then come back filled with change. It's kind of like that thing in the bank drive-through, except more primitive. Got it? Well, take that thing, make it bigger, and put people in it instead of money, and you've got Hyperloop.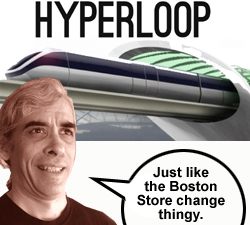 Mitch's brainstorm of the week, aside from self-marinating beets (still in development, so don't get excited), involves Hyperloop conveyances and our hole to the center of the Earth. I think he's all excited about this because we just spent weeks trying to figure out how to fashion an air-tight elevator or tram car that would suffice for navigating through the mantle and down to the chewy nougat core. Now he's discovered that Hyperloop has done all that work for him! All he has to do is pirate it, stick it in the hole, and down we go at 700 miles per hour!
I don't know about you, but I'm excited, though not half as much as Marvin (my personal robot assistant), who will likely be the test pilot. Oh yes, Marvin ... I'm looking at you, man.