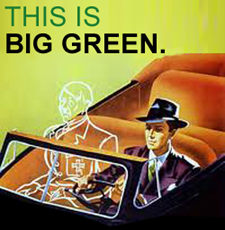 You sent it up the chute already? Okay, then ... well ... I WAS going to put the good stuff into it first, but I guess it's been long enough that people will settle for whatever they get. Oh, well ... maybe next month.
Yes, you heard right - we've uploaded the
September 2017 installment of THIS IS BIG GREEN
, and this seems like a really good time to talk about what's inside that honking little MP3 file. Here goes:
Ned Trek 33: The Nimrod Seven
. Incredibly, the thirty-third episode of our Star Trek parody, Ned Trek. This one's based on the classic
Star Trek
first season episode entitled
The Galileo 7
, in which Spock, McCoy, Scotty, and some toss-aways get their shuttlecraft stranded on a hostile ape-infested planet. Well, replace those three regulars with Perle, Coburn, and Sulu, change the shuttlecraft's name to "The Nimrod 7", then throw in Seb Gorka, Peter Lorre, the Nixon android, and a Mr. Stephanie or six and you've got a poorly-wrought morality play worthy of
The Immortal
or even fourth-season
Big Valley
. Oh, yes.
The Nimrod Seven contains no less than eight new Big Green songs:
Song: If You're Listening To This
- A somewhat country-fried Willard song that's a musical and conceptual adaptation of the "final orders" video Captain Kirk left for McCoy and Spock in
The Tholian Web
.
"You'll have to use your creed and your opportunities; but temper them with profits from false securities."
You get the drift.
Song: Commander I'm Dead
- A Stephanie Q (or R?) song about the uses of a dead soldier to any canny leader of men. The only lyric I can think of that makes use of the hick-French term "Mercy Buckets". Non-sequitur backing vocals by The Twenties Guys.
Song: Doctor In The House
- A bit of musical braggadoccio from self-reputed alpha male and Nazi progeny Seb Gorka, recently departed from the Trump clusterfuck. Prepare yourself for choruses of "beta cuck". Tell your wife: here comes Sebastian!
Song: Wait For You
- A Doc Coburn song with a real 60s anthem rock vibe. I find myself humming this one a bit as I wait for us to invade all those other places in the travelog.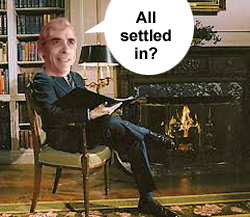 Song: Nimrod
- Perle song lamenting his frustrations as commander of the Nimrod 7, the misunderstandings ... it's like everybody speaks a different language! Heavy is the head ... and kind of heavy the song.
Song: Neocon Captain
- Sulu's number. Another anthem-like tune that likens the insufferable Perle to Captain Bligh (who ended up governor of New South Wales, by the way.) This is probably my favorite of the tranche (as Sulu songs often are), but you be the judge.
Song: Yo-Ho
- A song from Mr. Welsh, with the usual Celtic overtones and undertones. The Yo-ho, Toe-ho chorus is probably borrowed from the
Viking episode of Lost In Space
, but don't quote me.
Song: Nixon is Saving Us All
- This Nixon song closes out the set; the android's internal power source is used to fuel the crippled shuttlecraft and, as the title suggests, save us all! Favorite line: "
Until we loose the surly bonds and touch God's face; maybe drop some bombs.
"
Put the Phone Down.
Matt and I banter aimlessly (and occasionally break into song) about what we did over the summer, Seb Gorka, mechanical Nazi men, psycho Batman, and quite a bit more. Give it a listen, anyway.