Sometimes if you're up early enough in the morning, you can see the first rays of the sun breaking over the ruins of the abandoned mill next door. I think they made broom handles there or something. Now it's just some disheveled wreck that the sun rises over. Hey .... been there.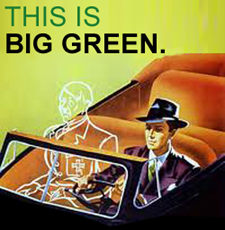 Yes, friends, it's been many, many suns and even more moons since I started this blog about Big Green. We now have posts that stretch back nearly as far as those rays of sunlight. A rich body of balderdash, and it's getting balder all the time. Sometimes you forget where this all began - in some crappy dive on the west end of the city, the walls smelling of beer, dog crap on the stage, and a bartender who hates your ass. A lot of music careers start that way. Ours, on the other hand, was never anything else. (Yes, we are like most bands - spectacularly unsuccessful and damn proud of it.)
So we took to the hammer mill and started hammering out recordings. That was in the nineties. Since then, we've put out three albums and a bunch of songs on the podcast. Christ on a bike - I think we're up to more than 50 songs since releasing
Cowboy Scat
in 2013. (Time for another album, right?) We're still recording on an old Roland platform, trying to transition to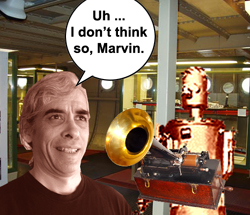 something more appropriate to the century we're living in. Marvin (my personal robot assistant) has suggested we start recording on cylinders or wire. Damn it, it's been done, Marvin! Come up with something new, like, I don't know ... recording on bricks.
Some five years ago we started the podcast, and it is still sputtering along, though getting slower ... slow like the two thousand year-old man. Fact is, we're thinking about launching another podcast that would be devoted exclusively to bloviating - something we could get out a bit more regularly. And if it ends up half as popular as
THIS IS BIG GREEN
, we could nearly double our listenership. Fan... tastic.
So, on we go. We're in production for another podcast episode, doing the songs right now. (Damn, they're strange.)