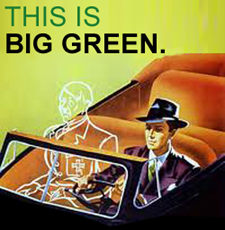 Okay, ready? On three ... one, two, THREE! Arrrgh. I meant, on the count of three LIFT the freaking thing, not wave your hands in the air. What the hell's the matter with you? It's like you just don't care.
Yeah, I guess you could say we're having a little moving party here at the abandoned Cheney Hammer Mill, Big Green's adopted home for the last two decades. (I think we technically have squatter's rights, but what law is there in a place such as this?) No, we're not vacating the premises - far from it. I just wanted to move my piano from one room to another. No particular reason. Maybe that's why I can't get any cooperation out of this crew. I KNEW I should have done one of those leadership retreats! Curses.
Sure, there are useful things we could all be doing, but who's got the time for that? I mean, I've been putting off restringing our borrowed electric guitar for about two weeks now. That sucker isn't going to string itself, right? Things just keep getting in the way. Like Marvin (my personal assistant) - he got in the way yesterday when he was vacuuming the hall. To get to the guitar, I would have had to maneuvered around him. And well ... I just don't feel like stringing the guitar,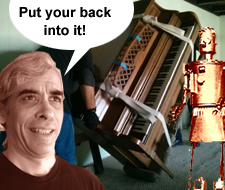 that's the point. You see? When all else fails, the truth will out!
While we're not moving things around at random, we are actually working on a music project. As I mentioned last week, it's kind of similar to our first album in that we're reworking some of the songs Matt wrote as low-rent Christmas gifts in the 1980s and 90s. The biggest difference is that we're recording it for the podcast ... and we're twenty years older than we were for
2000 Years To Christmas
. So this may sound more crotchety ... or not. But hey ... it's free, right? To us, you're all kids, and on Sundays, kids eat free. In fact, in my book, kids
always
eat free. That's how we roll.
So, let's put the piano the fuck over there, and let's get recording, damn it. Christmas is almost here, right?