Back to Earth with us, in a manner of speaking. Gravity always brings you home, right? Stupid ass gravity! Oh, well ... where would we be without it? (In space, perhaps.)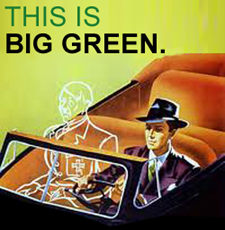 While we were away on our interstellar trip to nowhere-ville, we dropped another
THIS IS BIG GREEN podcast
- our annual Holiday Extravaganza, as it were. (And it were ... oh, it were!) If you've listened to it already, then you are among the few who truly understand Christmas cheer, let alone Christmas pride, Christmas joy, and all those other seasonal soap products. (We were sponsored by P&G this year. The really took a gamble!)
Anywho, without any further ado, here's what's inside the Holiday podcast:
Ned Trek 26: A Very Neddy Christmas.
The Ned Trek crew re-enacts Charles Dickens' A Christmas Carol with a more modern sensibility. Unprecedented? Certainly not. Nor is it un-presidented. It in fact features cameos by no less than two ex presidents and probably at least one future president. Introduced as always by Lee Majors, who doesn't even attempt a British accent.
Ned Trek 26 is a musical episode, featuring four new recordings by Big Green. They are:
Christmas Past.
Apropos of its name, this is a song Matt wrote in the very late 1980s, back when the sky was black with flocks of pterodactyls. This new recording includes choral parts in a little-known extraterrestrial tongue, with helpful translations by other choral singers who attempt to imitate David Bowie.
McBridy.
Another number from the old days, this one from Matt's 1990 Christmas cassette. A song about the troubles in Ireland, which were still going on back then. Eye for an eye, and an island of blind men. Pretty thumpy little number.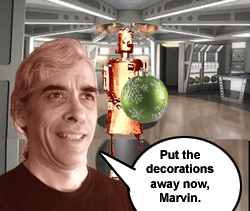 Romney in Reserve.
Kind of a country swing song about Willard standing by his phone, waiting for a call from a desperate GOP chair pleading for him to jump in and save the party for 2016. Dream on, Willard, dream on.
40s Guys Christmas.
Our best approximation of a big band, which is not too great, but nevertheless. The 40s guys get their chance to shine, singing about working on Christmas.
Put The Phone Down.
Matt and I talk about a whole bunch of stuff, from George Washington Carver, to George Washington's wooden teeth, to the war of the Cuban conservatives, and more. Easy listening here in Big Green land.
Enjoy and keep those comments coming. (Don't forget to check out the special encore Holiday Special at
NedTrek.com
. )