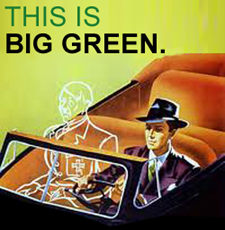 I think it's CMD-O or CMD-SHIFT-O, something like that. No? Okay, try CMD-ALT-5. Do it again. Okay, now divide 87 into 214 and multiply the dividend by the square-root of fuck-all.
Jesus!
That was a bit of a tantrum, I admit it. It's just that I'm living in the wrong freaking century, that's all. I'm from that period in history when people did different things for a living and those things all looked different - the doctor had a stethoscope and a mirror on her forehead, the accountant an adding machine and a legal pad, and the musician a freaking guitar. Now everybody's sitting in front of a computer, pecking at keys randomly and hoping for some elusive result.
Smarty alec kids! Get off my lawn!
Matt and I are in production on another tranche of songs, and it's taking a while because we're transitioning between recording systems. Now we're using a computer-based DAW instead of a proprietary hard disk system, and well ... I miss the simplicity of just pressing record and punching stop. Those were the days, right? (Well ... they were days.) Our autopunch back then was Marvin (my personal robot assistant) with his claw on the console and a complex series of eyebrow movements. What could possibly go wrong? (Listen to some of our albums and you'll find out.)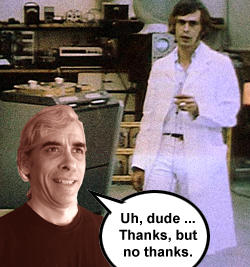 Right now we're kind of winging it, I admit ... though that's a bit more considered a state than we're usually in during recording sessions. I boot up the new system, punch a few keys, then start playing whatever instrument is called for - piano, sousaphone, kazoo, triangle, whatever - and realize a few moments later that nothing has been captured. Rinse and repeat. I need a team of scientists! And I don't mean
mad
scientists - we're all set on that score. If we were to ask Mitch Macaphee, our mad science advisor, to reconfigure our studio, we would end up with something on the order of what Magic Alex threw together for the Beatles back in the Apple Records days, i.e., a decorative, non-functional studio full of flashing lights with a speaker for every track and other non sequitur features.
Well, we don't want that. (No offense, Alex, wherever you are.) So if you're looking for me, look for that guy sitting at a computer terminal.