Okay, so we posted a cheap-ass podcast for July. So sue me. Go hire Mr. Simon's lawyer and sue me. Things went all pair-shaped this summer, what can I tell you?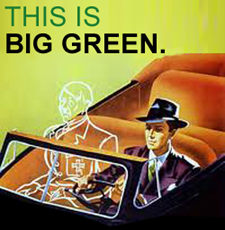 The fact is, we did produce a new episode of Ned Trek. I wrote the script, with Matt's able help, we voiced it, and Matt finished editing it ... and then his computer blew up. So he's reconstructing it, in between the fifteen thousand other things he's responsible for. And it has taken longer than anticipated, right? You know the drill. Even more galling in a way is the fact that this was one of our musical episodes, which means that we produced no less than 6 original songs for the sucker. A lot of production for an episode that never got posted. Still ... it will go up, eventually. Just wait and see. (Or hear.)
Anyway, we thought we'd take this opportunity to re-run one of our favorite Ned Trek episodes, called The Wrath of Carl, in which Carl Sagan decimates the Free Enterprise crew through the awesome power of his calling bullshit on all of their pseudo-scientific TV-show contrivances, like artificial gravity and ... well ... interstellar travel. (My favorite moment is when Sagan points out that horses lack the requisite anatomy for speech, at which point Ned loses his voice.)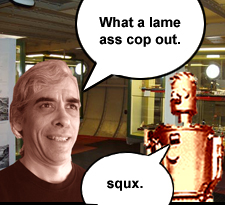 What's on deck for this month, besides this re-tread episode of Ned Trek? Well, we have a selection from
Cowboy Scat: Songs in the Key of Rick
- a little song called Savin' Myself for America, which is a particular favorite of mine from that album. (Hear it now on
YouTube
.) We also launch into a shaggy-dog planning session about our next album, which will feature songs from - you guessed it - Ned Trek. We've produced about fifty so far, and you can listen to us engaging in the somewhat useless task of winnowing this down to maybe 45. Will this be our first double album? Who freaking knows. (We obviously don't - just listen to the podcast.)
So there you have it. Another day at the office.