I told you yesterday about the roof. Now the internet is down. No, not the WHOLE internet ... OUR internet, dumbass! And that electricity you tapped from the house next door? Well ... that's run dry as well. Damned squathouses!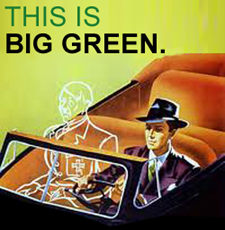 Okay, so these are not the easiest days around the abandoned Cheney Hammer Mill, and we of the Big Green collective are having to think our way through some truly daunting problems. This is pretty basic stuff, right? Keeping the rain out when it rains. (Right now, our roof only keeps the rain out when it's sunny.) Surfing the internet in your socks. Plugging the electric can opener in and having it do what it's made to do, not sit there like a paperweight. Stuff that any band should expect to be able to do, even when they're squatting in an abandoned hammer factory. But noooooo ... not us.
No, Marvin!
For chrissake. Marvin (my personal robot assistant) heard what I just told you and took it into his little tin head that he should try to open a can with a paperweight. That's just so wrong. It's emblematic of the type of help we get around here. Sure, we have our own robot, but he doesn't know how to do anything useful. Sure, we have a mad science advisor, but he spends all of his time in a makeshift lab in the basement, burning isotopes into larger ... I don't know .... isotopes? (Or does burning them make them smaller?) Why the hell couldn't we have made friends with either a carpenter or a handyman? Why wasn't I born a carpenter?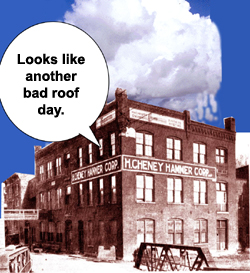 Speaking of the Carpenters, Matt and I have been tracking some backing vocals for the next crop of songs - about eight of them, to appear in the next installment of
THIS IS BIG GREEN,
embedded within the new Ned Trek episode. When will that be ready? Well, it depends on when it stops raining in the studio. It's a little difficult recording vocals under a painter's tarp. Ends up sounding muffled, like someone threw a blanket over you. Which, of course, they did. There's a reason for everything in music.
So ... we soldier on. Now if we only had some soldiers. Or some solderers. They could fix our broken patch cords.