Hmmm. I thought Mitch was looking a little depressed. Are you sure that's the reason? Wow. Who knew?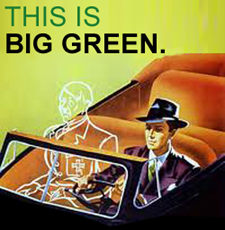 Oh, hi. Christ on a bike, sometimes living in this abandoned hammer mill is like working in a clinic for the chronically depressed. What a bunch of moody Melvins! Marvin (my personal robot assistant) has been giving us all the silent treatment for about a week. My brother keeps saying he needs a charge-up, but that's just making apologies for the fucker. (Stop defending him!) Every time there's a new episode of "Mercy Street", old Anti-Lincoln goes all pear-shaped, starts drinking and cursing at us like we're General Grant or General Sherman (with our inimitable bow-ties snapping). Insufferable.
And then there's Mitch Macaphee, our mad science adviser. Though to be fair, his depression is usually rooted in mad science. Anyway, his smile turned upside-down earlier this week, and we had to start rooting around for the cause. (You don't want to allow Mitch's moods to fester ... that's when he starts getting really creative in the lab.) At first I thought it may have been about that North Korean A-bomb test, but that wasn't it. Then I saw the story about the astrophysicist who claimed that there was evidence of a massive ninth planet way beyond the orbit of Neptune, and I knew I had found the cause. Busted!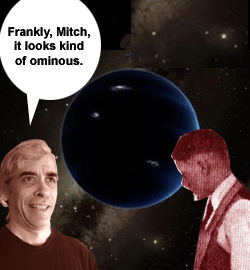 Yeah, we've known about that planet for years. Mitch discovered it on one of our interstellar tours, and he was so thrilled at his own cleverness that he resolved to keep it secret from humanity until he could find some practical use for it. It is, in scientific terms, a big motherfucker, with enough mass to line up all the other planets in our puny solar system like billiard balls. (I think that played into Mitch's plan for the dark world beyond Neptune. He dreamed of racking them all up like nineball and running the table, as if he was the Minnesota Fats of interplanetary collision.)
Okay, so now we need a cover story. Here goes: just call the new planet "Blameus". Legend has it that this dark world is responsible for all of our sorrows. That should focus people's attention a bit ... at least until Mitch can work out his next shot. (Okay, so I'm an enabler. Just a little harmless fun.)