That doesn't sound right to me. Twist the knob a bit further. No, no - not that knob! The one below it. Give it a good twist. Wrong way! That sounds horrible. Try the next knob down.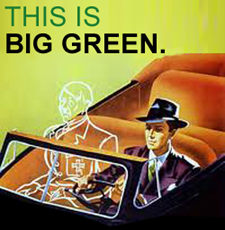 Oh, man ... these sound consoles are so confusing. All those knobs and buttons and sliders and levers, each one doing a whole different thing. And then there's the analog/digital thing, so a lot of the knobs and switches are assignable, which means they do DIFFERENT things for DIFFERENT people. Holy shit, that's complicated. My brain hurts.
You see ... that's the trouble when you spend most of your life writing and playing songs and very little of your life learning the complex technologies involved in putting those songs across. Like most musicians, our reaction is ... you mean I have to learn TWO things? That's outrageous! Double duty, indeed. (As you can see, we are truly in the mainstream of American thought and sensibility.) I think about this every time I listen to old tracks from our various albums and ramshackle collections of unreleased material. I remember the hours of pulling random levers, spinning random knobs, etc., that lead to the final product and I ask myself: How? How is it that it sounds like anything at all?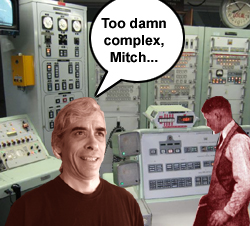 Must be a reason that sound comes out of the speakers when you play our recordings. All I know is that we make noises, put them into machines, and voila. Maybe Mitch Macaphee goes in there after we're done and fiddles around with the sound molecules, perhaps in hopes of precipitating some kind of sonic explosion. Perhaps not. (I know that there's usually an subsequent economic explosion, or implosion, to put the matter more precisely.)
As you know, our process for writing songs is somewhat unorthodox. I've described it in these blog pages before. Matt pretty much writes songs in his sleep, which explains a lot. I tend to write best in the shower, but I usually don't have much to show for it other than some sodden, blotchy shreds of paper.
Do what you do best; that's what I was taught. Now if I can just work out exactly what that is.