Did you feel that? No? Okay, check. How about that? Really. Right, then. Check again. Now let's try the pointed stick. You don't want to do it? Well, aren't you the sensitive one.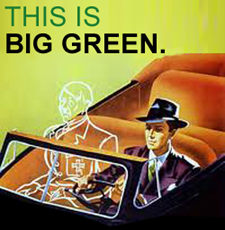 Yes, we're back. I'm just interrogating Marvin (my personal robot assistant) to get some idea of the degree to which his primitive analog circuitry has the capability to emulate human emotions and mock the various senses we take for granted. So far, it's not going very well. His brass exterior seems impervious to brillo pads, water, even fire. Not sure about pointed sticks - that may be his Achilles' heal. (I guess I could wait until he's feigning sleep, then try it on his heel.)
Why am I wasting my time in such a manner? Well, while I'm waiting for Matt to get here and start recording the next episode of our podcast, THIS IS BIG GREEN, I am consuming myself with summer projects, some of which I've blogged about over the past few weeks. Annoying Marvin is one, though it's hardly just a summer project. Still, this is kind of a pointed annoyance, and not just because it involves pointed sticks. You see, as part of one of my OTHER summer projects, I just posted on
our YouTube Channel
another live performance video from Big Green's 1993 demo. This song, "Sensory Man", is another Matt number - his exploration of the robot experience via Lost In Space. We're talking Robot B-9 here, people. You know, that does not compute. Danger, Will Robinson. Etc.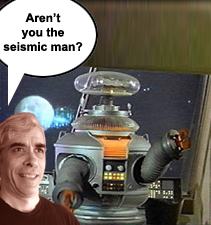 As I think I mentioned before, we don't have a lot of video footage of us playing live, and even less of us playing our own songs. This demo included a lot of covers - all stuff we liked playing. So it's kind of a freeze-dried sample of our set list from the 80s and 90s. We've got three takes of "Sensory Man", as well as a rehearsal sequence on that song, a couple of takes of "I Hate Your Face", and one of "Why Not Call It George?" - that's it for our songs. That is, unless someone out there has video of us playing at Middlebury College or SUNYIT, when we opened for Bloodline. Anybody? Thought not.
Leave us face it - Big Green's earthly performance faze was relatively brief. Most of our archival material is from a time before Big Green .... a time when, dare I say it, beasts of every size and description roamed the Earth. The scarier ones were club owners. But then you knew that. (If you own a club, you're probably a cave man. Am I right?)