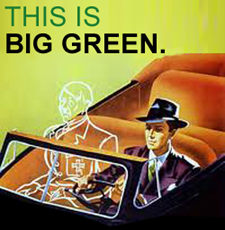 Yeah, turn the bass drum up a little in my headphone mix. Yeah, that's enough. That's good. Okay, dial it back ... Too loud. STOP!! Christ on a bike. Can't you turn a knob in a direction other than clockwise? No? Okay. Good to know.
As you may have surmised, we have resorted to using Marvin (my personal robot assistant) as a sound engineer in the makeshift studio we maintain at the abandoned Cheney Hammer Mill. Not the optimal choice, I admit, but hey, look - we only have two hands. Actually, between us, we have four, but - and this is important - WE'RE USING ALL FOUR OF THEM. I thought Marvin, being a robot, might be a bit more precise in his manipulations of various sound parameters, but it appears that Mitch Macaphee (our mad science advisor) cut a few corners when he put Marvin together. His wrist joints only turn one way, it turns out. What the fuck.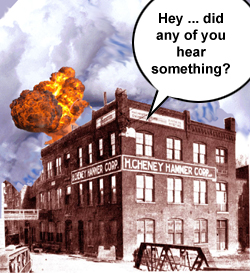 When you are effectively a pop duo ... and I think Matt and I constitute the duo part, at least ... you need to rely on others sometimes to do some of the heavy lifting. Marvin can do some stuff. I've gotten Antimatter Lincoln to shake a tambourine more than once - that's about his speed. The man-sized tuber is pretty good at holding things up, like a table. These are all things we would otherwise have to do ourselves, so it's not like I'm ungrateful. But man ... a shred of musical ability would come in handy right about now.
Then there's such a thing as too much help. Yes, I'm talking about Mitch. This one song we were working on, we wanted a colossal bass drum sound. Mitch said he could do better than our superannuated effects boxes, so we said go ahead, knock yourself out. The next morning, I'm awakened by this earth-shattering BOOM and the whole mill is shaking like a jello mold. Out in the courtyard, there's a smoking crater where the tool shed once stood. There were about seven mics set up around the crater. I guess Mitch was thinking surround sound.
It took about a year to live that down. (We still get calls from the codes department.) So hey, now I'm careful when I ask for help.