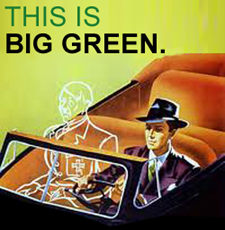 Okay, so the strings have been changed. Congratulations. Only trouble is, there's four strings, not six. What is this freaking thing, a banjo? No banjos in my house! Well .... maybe one, but that's it!
Wow, I guess you caught me laying down the law with Marvin (my personal robot assistant), who has been standing in for my guitar technician over the last week or so. Not a role he was born to play, that's for sure. His rudimentarily prehensile claws can barely hold on to a guitar let alone change a set of strings. I think this time around, he quit the task at four strings just because it's so damned impossible. (I gave him Mission Impossible.)
Why would I ask Marvin to change my guitar strings? Well, he should stretch a bit beyond his comfort zone, you know? He's got to make something of himself one day, and with all of the automation happening throughout our global economy, I'd say he'll have plenty of opportunities. If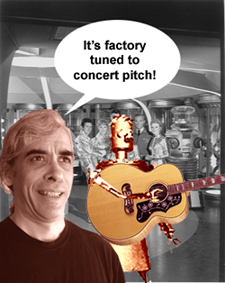 that sounds odd coming out of a confirmed collectivist, just bear in mind - Marvin doesn't have any material or animal wants or needs. He runs off of a little breeder reactor in his chest cavity. I think it looks like a cake frosting pipe with some arteries painted on the outside - it bobs up and down and makes a noise that recalls to mind a beating heart. (Oh no, wait ... that's an episode of Lost in Space.)
Actually, Marvin has volunteered to serve as the self-driving part of our self-driving car. All we need to do is add the car part. I tried to explain to his tiny brain that the car part is the
hard
part because it involves substantial cash outlays and various other activities that are difficult to perform when you are "off the grid", if you catch my meaning. Still, it would put us in the forefront of independent bands if we started traveling about in a van driven by an automaton. This could be our ticket to stardom ... or at least start-um. (You have to start
some
where.)
Back to the guitar strings. I am trying to teach myself a few songs on guitar so that I can start busking. Or at least do some virtual busking, as a professional busker, not a hobbyist. (Like I need a hobby, right?) The guitar case will be open, hungry for unwanted coins, at a subway stop near you.