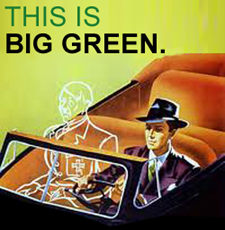 Hmmmm. That doesn't sound quite right. Can you put a little more reverb on it? No, no ... not just the plate. I mean
generation
reverb. Make me sound like I'm at the bottom of a well. Yeah, like that. Nope ... nope, still no good. Bugger.
Oh, hi. Just caught us in the grips of an artistic quandary - the kind Big Green gets caught up in all the time: How to make a track not suck too badly. I just did a vocal on one of Matt's songs an I'm not crazy about it. Sounds a bit too nasal for my tastes. Just try to sing like a full-throated Mitt Romney, and with that I say good luck to you. I'm at the point of auditioning ghost singers, kind of like what the Monkees used or the Partridge Family used to do ... you know, the Partridges would move their lips and you would hear the mellifluous voices of some unknown bird-named stock singers; perhaps the Loon Family, down on their luck. Yeah, well ... maybe we gotta get some of that shit.
Trouble is, when you live in an abandoned hammer mill and you have no money, putting out an open call for auditions is not an option. Ergo, we try to draw on the talent we already have. Like anti-Lincoln, for instance. I thought, inasmuch as he is the antimatter doppelganger of our great emancipator, that he would be endowed with the exact opposite of his namesake's reedy voice. I imagined booming, pear-shaped tones emanating from that bearded gob, but no dice, my friends, no dice. Apparently that's one thing that stays the same in the antimatter universe - we all have the same voices, even if we eat corn on the cob vertically instead of horizontally.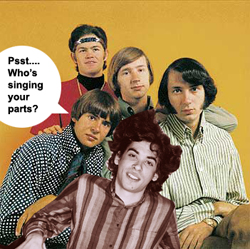 Next up in the internal audition queue was, well ... Marvin (my personal robot assistant). This didn't go very well either. Picture that scene in Room Service when the Marx Brothers are trying to pass customs with Maurice Chevalier's passport, attempting to imitate him convincingly. Marvin was like Harpo with the phonograph strapped to his back. He's got a bunch of scratchy recordings stored in his internal hard drive (or tape drive - he is getting a little long in the tooth), and when he sings he selects individually sung words from that entire library. It's great if you want a mashup, but .... I don't.
So, back to the drawing board. Or the singing board, more appropriately. Me-me-me. Who's on the hook this time? Me-me-me.