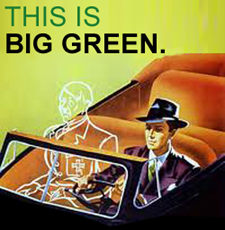 Sure, you've played that one before. You remember. It's the one about the fascists dropping over for Christmas. Don't remember? Go back and look, dude!
Hiya. As you know, we're still shut up in the abandoned Cheney Hammer Mill, working diligently on the next episode of
our podcast, THIS IS BIG GREEN
. And when I say "next", I mean the next couple of episodes, each of which is in a different state of non-completion. This is all about Ned Trek, of course ... that time-consuming mashup of space opera crossed with horse-based comedy and political satire. If I recall correctly, we dreamed that concept up on the planet Neptune, but don't quote me. Matt probably pulled it out of Uranus. Either way.
So ... the most proximate of the "next" episodes is being edited and finished as we speak (are we speaking?). The second "next" episode hasn't been recorded (or even completely written) yet, but that one's a musical, so we've been working on songs that will go into the episode. That installment of Ned Trek will be based on the Nazi episode of Star Trek, so pretty much all of the songs are about fascists, past and present. That's right, folks .... around the studio lately it's been Nazi this and Nazi that. We're calling the fuckers out, people, and in the most ridiculous ways. Word.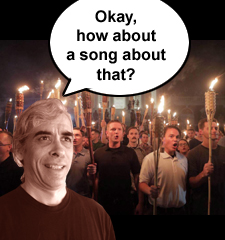 Not that we haven't cultivated that particular field before, you understand. It's just that we're digging in a bit this year. It's partly due to the specific Star Trek episode we're mocking, but hey, let's face it ... there are a lot of neo-fascists taking power just lately, including the clownish variety we have here in the states (to say nothing of the right-wing brown shirt organizations we deal with at the street level these days), so these songs aren't exactly historical documents, per se. We're jamming on current affairs, people. Ripped from the headlines, as it were. It's enough to make Marvin (my personal robot assistant) blow a fuse or two. Just so long as he doesn't grow a little mustache.
I know ... we're on a slow roll here in Big Green land, but we will get back to posting podcasts in the weeks ahead, honest. Look for a new episode soonish .... now with more Nazis.