Break out the ice cube tray. I need to warm my hands up over it. Yeah, that's better. It's all relative, my friends.
Well, here we are, out on GJ 1132b on the first and final leg of our Fall 2015 Tour, entitled BIG GREEN'S CAPER BEYOND THE KUIPER (BELT), brought to by Hegemonic Records and Worm Farm, Inc. (Slogan: If it says Hegemonic, you know it's for keeps.) Hey, nobody told us it would be this freaking cold out here, way beyond the limits of our solar system. That's probably because nobody asked. In any case, we're here on this frozen piece of real estate, some 39 light years from Earth, trying to chip a performance venue out of the rock-solid CO2, and having very little success I'm sorry to tell you.
How is the tour going? Well ... let me put it this way. Have you seen the movie "The Martian", by any chance? How about "Marooned"? If not, the essential point is this: never rent a spacecraft from a dodgy neighbor of Mitch Macaphee. (If that ever comes up, take if from me and refuse! REFUSE, I tell you!) Yeah, the sucker's ion drive leaves a great deal to be desired. That is to say, it's very existence was just a desire on the part of the ship's owner. The actual propulsion unit runs on cottage cheese and ketchup, and we appear to be fresh out of those commodities. (And to paraphrase Warren Oats, there are no 7/11's out yonder.)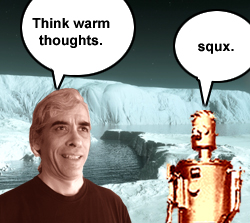 Not to put too fine a point on it, we are going to have to Mad Science the shit out of this thing. Mitch Macaphee is working overtime (as much as 3 hours a day) trying to adapt Marvin (my personal robot assistant)'s solar power unit to the ship's main drive. It is by no means a walk in the park for old Mitch. Good thing we brought some decent gin with us. (Though we left the rummy back at the mill.)
I'm not sure why the creator of the universe bothered to conceive of this shriveled little world. It's basically just a rock in space, orbiting a random star, spinning out its eons in total obscurity. Sounds a bit like us, actually. Maybe we should name this place after ourselves. Or just call it Preplanus - I don't think that's being used anymore.