Bloody hell ... my mirror cracked. No, I didn't smash it with a hammer ... I just looked into it, trying to freaking shave. Jesus, I'm old. Hey .. can I use your mirror?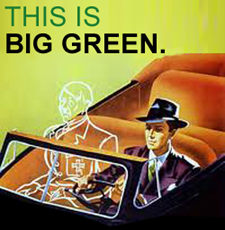 Yeah, we're cracking mirrors around here, no doubt about it. Looking back on about 30 years of making music under the same moniker, and it's a little stupefying, frankly. True fact: Big Green was founded in 1986 and it's still kind of rolling, give or take a few members. But regardless of the lineup, we still have the same DNA. The clueless core has remained intact ... it hasn't gone sub-critical yet. That's 'cause we're blood, man. Blood brothers, inseparable. (Particularly so, since Matt does most of the work.)
As we continue working on the next raft of songs, I've been taking a few minutes here and there to listen to our previous releases, for context if nothing else. Actually, part of it is taking note of stuff that I hate so that I can resolve not to make the same bonehead plays again and again. (Hey ... how about that as a name for the next album: Bonehead Plays? Anyone?) Then there's the stylistic question: what pigeonhole will we be placed in? And will the pigeon charge us rent? I don't know about you, but my experience tells me that pigeons are lousy landlords. When something goes funky, like a leaking faucet or a broken mirror, they never send a proper workman ... just some brother-in-law pigeon who owes them a favor.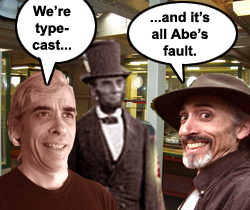 Okay, I digress. Here's the thing. Our first album had a holiday (i.e. Christmas) theme. The second was more of a straight rock record. The third was a mock country album. And yet, when you look us up in any of the music services, we tend to get chucked into "Holiday" or "Seasonal" categories, no matter what genre we assign to the album when we post it. The collection we're working on rolls all over the stylistic map, starting in Alaska and ending up in Madagascar. Some pretty crazy shit, man. Look for it under "Holiday".
Prisoners of our past, in search of a clue. That's the glory of ... that's the story of Big Green. Happy 30th anniversary, kids.