Mitch, I'll be frank ... I don't think this is a good idea. I know it's the middle of the night and most likely no one can see us, but that contraption makes a lot of noise and ... well ... never mind.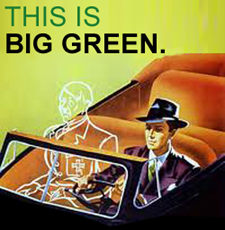 Oh, hi. Yeah, I'm trying to talk our mad science advisor Mitch Macaphee off of the ledge again. This time I mean it literally - he's up on top of the Cheney Hammer Mill, all worked up in a lather about the recent news from deep space. Did you hear about it? Well, in case you haven't, the space probe Rosetta has crashed into Comet 67P/Churyumov--Gerasimenko after having gathered data about what that cosmic snow cone is made of.
This kind of news always sets Mitch off - he's apparently got a hand in every celestial body from here to Andromeda, I'm gradually discovering. He's a bit like Heath on the Big Valley. Every time a stranger comes to town, it turns out that Heath had "sworn to
keel
him" at some point. (I always wondered why brother Jarrod, being a lawyer, never demanded that Heath write up a list of everyone he ever swore to keel ... I mean, kill.)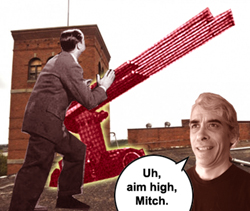 Anywho, Mitch's overheated response to the comet collision news was tantamount to a declaration of war. He brought Trevor James Constable's patented orgone generating device out of mothballs, tinkered with it for a few hours, then - with the help of Marvin (my personal robot assistant) - hauled the pile of junk up to the roof of the mill and pointed its multi-pronged array at the heavens. He borrowed one of our longer extension cords, fired the orgone generating machine up, and started muttering to himself. "Yes, yes ..." he said maniacally. "It won't be long now." (I'm leaving out the twisted little cackle he interjected between phrases as I do not wish to frighten the children.)
I'm not clear on what Mitch hopes to accomplish here. The orgone generating device, after all, does little other than its core functions of opening time portals and attracting invisible flying predators. In short, it's a poor choice if you're planning on shooting stars.