A little higher. Little more. That's it. Right, now ... slowly lower the winch. That's got it. Okay, a little too fast. Too fast. I said TOO FAST! Oh, Jesus. Right ... order another banner. No wonder I never get anything done.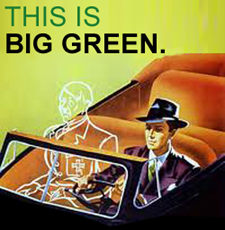 Oh, hello. Forgive me if I always seem surprised when you come along. I'm inclined to forget about the blogging version of the "fourth wall" and the fact that others can see what the hell I'm doing (or not doing). Today you've caught me and Marvin (my personal robot assistant) in the midst of constructing
Big Green's new YouTube Channel
, hot off the presses. You see, for the longest time we've been pointing our listeners/readers/browsers, whatever, to my personal YouTube channel, which has over the last few years become choked with political content, obscure linguistics and philosophy of mind lectures, comedic bullshit, and so on. It finally dawned on my dim little brain that the band needed its own space for video content, and hey presto - a summer project was born.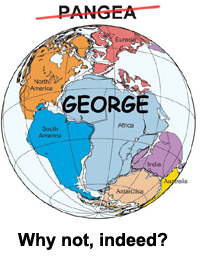 The timing of our YouTube launch is not entirely an accident. As I mentioned in previous posts, I have been trawling through old tapes, discs, etc., listening to and watching recordings of performances from our terrestrial live performance days back in the 1990s. Over the past few weeks, I cut up a video demo we recorded back in March of 1993 with the guitarist we worked with at that time, the amazing Jeremy Shaw. The video is standard def, 4:3, and a little strange. We taped these performances in a practice room somewhere in Utica - as I recall it was a loft-like space within a couple of blocks of the Police Department headquarters. (Could explain why we look so polite.)
There are some cheesy visual effects inserted at the time of the recording - basically presets in the camera our videographer was using. (The videographer was a dude named Angel whom we met through a mutual friend.) They add a certain trippyness to the whole business, but no matter. Hilariously, the rehearsal space was a typical rock band man-cave environment circa 1993, with cheesecake posters on the walls and overstuffed ashtrays. (Just behind my illustrious brother you'll notice the incongruous sight of some babe posing for the camera.)