Got everything packed? Good, good. Don't forget the picnic (pronounced pick-a-nick) basket. Then there's the water supply, or at least that machine Mitch invented that makes water from thin air using something that looks like a spark plug. (I think the Robinsons used it on
Lost In Space
, right alongside the clothes washer that folded garments and wrapped them in plastic.)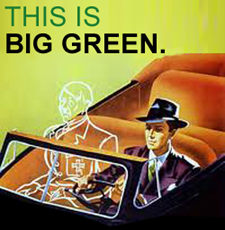 Well, it's been a long summer, and we have done absolutely NOTHING that can be considered recreational. Yes, Marvin (my personal robot assistant) rolled over to the hardware store once or twice to pick up some machine oil and batteries. Yes, the mansized tuber struck up a friendship with some ornamental plant outside the 7-11. Yes, Mitch Macaphee went to half a dozen mad science conferences, one held in an abandoned cement plant on the north end of town. (I told him to have it here, that one abandoned mill is just as good as another, but he wasn't having any of that.) Still, none of this can be considered recreational in a summery kind of way. (You
could
say that none of them amounts to summery execution, but I really wouldn't say that if I were you.)
So, what was it going to be? Road trip? Nah. Did that last summer. Sickening, frankly. How about a boat trip? We have the Erie Canal running practically right alongside our abandoned hammer mill. All we need is a cheap gondola and a couple of oars, then it's off to wherever that canal goes. East or west, I reckon. Just like
Life on the Mississippi
, except less crackery. And no Mississippi. No?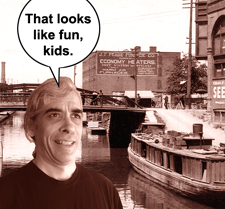 You see, THIS is why we never go on vacation. We can never freaking decide what we want to do or where we want to go. The only time we travel is when we're on interstellar tour (or when we time travel, which is disorienting, frankly, and I have discouraged Mitch from dragging us along through the time/space portal he keeps in his office). It's like we're just visitors on this, our home planet. Though come to think of it, the weather has been ungodly hot just lately. And Louisiana is under water. And California is on fire. Maybe this ISN'T our home planet. It does seem kind of inhospitable. Hmmm...
Okay, well ... boat trip it is. Pull the gondola up to the jetty ... whatever any of those words mean.