You looking for a song about the Crab Nebula? Yeah, we got that. How about one that mentions the Green Nematode? Uh-huh. You betcha.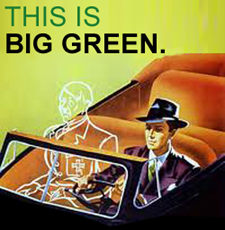 There was a day when the abandoned Cheney Hammer Mill used to churn out, well ...
hammers
, day in and day out, first with steam power, then electricity. Now it's an assembly line for weird songs about Green Nematodes and other stuff - a row of songwriting machines, powered by trail mix, bug juice, and pizza. No, you can't build a house with these songs. You can't drive a carpenter's nail into a 2 by 4. You can't tack up some dry wall in your uncle's unfinished attic. In fact, the songs are pretty much useless ... but they're free. Free as a freaking bird.
Sorry for running on at the mouth. I always get like this when we're finishing out a new batch. This week we're mixing six new songs for the next Ned Trek episode, all of which are content-focused on the human brain and its many failings, particularly that singular example of the thinking organ that resides in the skull of Willard Mitt Romney, captain of the Free Enterprise. Most of the songs are written on that theme, anyhow. That's a lot of brain music!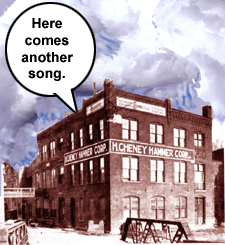 Of course, we're building them stick by stick, using the usual bailing wire, string, tape, toothpaste, and whatever else is handy. And, well ... they sound it. These are homespun recordings, my friend. We're not riding over to the Record Plant and laying down some serious tracks. No, sir ... we march straight down to the hammer mill basement and bang on those pots and pans. We tune up the tired old strings on Matt's Rickenbacher bass and start thumping along, hollering into distressed old condenser mics, cupping my superannuated headphones to our ears. Not a lot of nuances, friends. Not hardly.
So what the hell ... when are you going to hear these numbers? Patience, my friends, patience. We are working as we speak. Watch this space!