Did you upload the episode on time? Marvin? Can you hear me? Oh, Jesus. Not again. Right ... Hey, anti-Lincoln! Plug Marvin in for a couple of hours. Make yourself useful!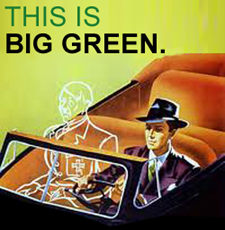 Hi, good people. I'm pretty sure Marvin (my personal robot assistant) uploaded the August episode of our podcast,
THIS IS BIG GREEN
- our fifth anniversary broadcast! - over the last couple of days, but until he has a decent charge on him I can't be sure. If you listened to it, you know a lot of what I planned to tell you today. But because I am a pedantic motherfucker, I fully intend to tell you about it anyway. Here's what we got under the hood.
Ned Trek 29: Error of Mercy
- This latest episode of our Star Trek political parody audio melodrama is based on the classic Star Trek episode titled "Errand of Mercy". (For you non-aficionados,
here's the IMDB listing
.) The crew of the Free Enterprise arrives at the planet Origami just ahead of the Confederation's arch rivals, the Cleenton Empire. The episode features a bad, bad imitation of Bill Clinton, a perhaps worse imitation of James Carville, and a lot of cheap shots. Perle ends up wearing another barrel, so it's probably worth a listen.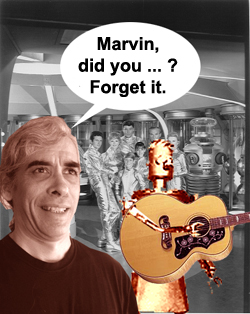 Put The Phone Down
- We start with some strained renditions of a song by The Troggs, as sung by Peter Lorre, the Daleks from Dr. Who, and others, then rip right into a discussion of current affairs. That more or less follows the theme of my political rant this week - the assholes vs. the fuckers, in essence, though we also spend some time on "Bernie or Bust" and the Green Party. (Don't get me started!)
Live Songs
- These are audio tracks from the excerpts of our live video demo we posted over the past few weeks on our
YouTube Channel
. These include Sensory Man, I Hate Your Face, and Why Not Call It George? Fairly raucous, more or less in line with cuts from our
Live From Neptune EP
. The recordings were made pretty proximate to one another, probably within a year or so (1993-4). This was at the end of the period when we performed with guitarist and friend of Big Green, Jeremy Shaw.
Anyway, a lot of good-ish listening here, so enjoy. Or at least try to enjoy. I just want to spread a little sunshine as I move through the world, that's all. Just call me "little joey sunshine". (Sure beats "fucker".)